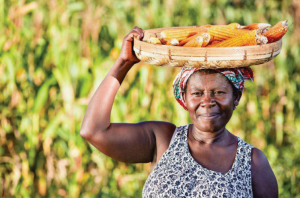 A new science brief, written by scientists from the International Maize and Wheat Improvement Center (CIMMYT) and partner organizations details the use of naturally occurring diversity in maize to breed higher levels of Vitamin A into the crop.
Diets high in cereal crops are often lacking in vitamins and minerals, leading to malnutrition. However, maize, which is eaten widely in developing countries, and provides nearly one third of total calories to over 4.5 billion people globally, can be bred to naturally produce nutritionally adequate levels of VA.
Vitamin A (VA) deficiency is the leading cause of preventable childhood blindness and nearly one third of children under the age of five are at risk of developing VA deficiency. ProVA maize has been shown to be effective at increasing VA status in at-risk children, reducing the likelihood that they will suffer from complications such as blindness.
The science brief details the use of the naturally occurring genetic diversity, found in the nearly 30,000 maize cultivars held between the germplasm banks at CIMMYT and at the International Institute of Tropical Agriculture (IITA), to breed higher levels of VA into maize which is more suited for the tropical environments where VA deficiencies are more common.
This initiative to increase VA in maize is part of a larger CGIAR-wide initiative for biofortification with HarvestPlus and Crop Trust. This article is part of a series on biofortification by Crop Trust, find the rest of the series here.
Check out the full article: "Vitamin A-Biofortified Maize: Exploiting Native Genetic Variation for Nutrient Enrichment. Science Brief: Biofortification No. 2." 2018. Menkir, A., Palacios-Rojas, N., Alamu, O., Dias Paes, M.c., Dhliwayo, T., Maziya-Dixon, B., Mengesha, W., Ndhlela, T., Oliveira Guimarães, P.E., Pixley, K., Rocheford, T. (February 2018). CIMMYT, IITA, EMBRAPA, HarvestPlus, and Crop Trust. Bonn, Germany.
Check out other recent publication by CIMMYT staff below:
Do mature innovation platforms make a difference in agricultural research for development? a meta-analysis of case studies. 2018. Schut, M., Cadilhon, J. J., Misiko, M., Dror, I. In: Experimental Agriculture v. 54, no. 1, p. 96-119.
Nematode management in rain-fed smallholder maize production systems under Conservation Agriculture in Zimbabwe. 2018. Madamombe, S.M., Nyagumbo, I., Mvumi, B.M., Nyamugafata, P., Wuta, M., Chinheya, C.C. In: Experimental Agriculture v. 54, no. 3, p. 452-466.
High-yielding winter synthetic hexaploid wheats resistant to multiple diseases and pests. 2018. Morgounov, A.I., Abugalieva, A.I., Akan, K., Akın, B., Baenziger, S., Bhatta, M.R., Dababat, A.A., Dutbayev, Y., Moustapha El Bouhssini, Erginbas-Orakci, G., Kishii, M., Keser, M., Koc, E., Kurespek, A., Mujeeb-Kazi, A., Yorgancılar, A., Ozdemir, F., Ozturk, I., Payne, T.S., Qadimaliyeva, G., Shamanin, V., Subasi, K., Suleymanova, G., Yakisir, E., Zelenskiy, Y., Demir, L. In: Plant Genetic Resources v. 16, no. 3, p. 273-278.
Measuring farm and market level economic impacts of improved maize production technologies in Ethiopia : evidence from Panel Data. 2018. Kassie, M., Marenya, P., Tessema, Y., Jaleta Debello Moti, Zeng, D., Erenstein, O., Dil Bahadur Rahut. In: Journal of Agricultural Economics v. 69, no. 1, p. 76–95.
Cereal cyst nematodes : importance, distribution, identification, quantification, and control. 2018. Toumi, F., Waeyenberge, L., Viaene, N., Dababat, A.A., Nicol, J.M., Moens, M., Ogbonnaya, F.C. In: European Journal of Plant Pathology v. 150, no. 1, p. 1-24.