CIMMYT E-News, vol 2 no. 12, December 2005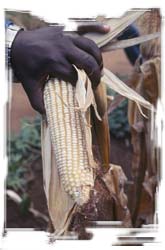 New, elite maize lines from CIMMYT offer enhanced nutrition and disease resistance.
CIMMYT has just released two unique maize lines that will interest breeders in developing countries. One is the first to combine maize streak virus resistance in a quality protein maize and the other is a quality protein version of one of CIMMYTs most popular maize lines. Made available every few years to partners, CIMMYT maize lines (CMLs) are among the most prized products of the Center's maize breeding program.
"These are truly elite maize lines," says Kevin Pixley, the Director of the Center's Tropical Ecosystems Program. "They represent a distillation of maize genetic resources from around the world to which CIMMYT, as a global center, has privileged access. Only one of 10,000 lines might become a CML. Breeders in national programs in many developing countries look forward to new sets of these lines."
The lines are inbred and possess excellent combining ability, which means they can be used to form either hybrids or open pollinated varieties, and so are versatile parent materials for breeders in national programs.
The new quality protein and maize streak resistant line will serve as a natural replacement for a parent in the popular Ethiopian maize hybrid, Gabisa. Maize streak virus is endemic in Africa. Severely infected plants do not produce proper cobs and nor grow to full height. Farmers will have the chance to use a hybrid with the enhanced nutritional characteristics of quality protein maize, plus built-in disease resistance.
The quality protein version of one of CIMMYT's most successful maize lines—CML264—is virtually indistinguishable from the original parent, which is found in the pedigrees of more than a dozen commercial hybrids in Central America, Colombia, Mexico, and Venezuela. Farmers using varieties derived from it will obtain the same high yields as always, while enjoying the higher levels of grain lysine and tryptophan—two essential amino acids that improve nutrition for both humans and farm animals.
A description of the complete set of new CMLs can be found at:
https://data.cimmyt.org/
For more information contact Kevin Pixley (k.pixley@cgiar.org)