To strengthen the modern technology-driven maize breeding in China, "CIMMYT-CAAS-Seed Industry Interface on Rapid-cycle Maize Breeding" was held on June 9, 2012 in CIMMYT-CAAS Joint International Research Center based in Beijing. Co-sponsored by CIMMYT, the Chinese Academy of Agricultural Sciences (CAAS), and the Generation Challenge Programme (GCP), the workshop was attended by 52 scientists and managers from 23 seed companies and public sector institutions in China. Their aim was to establish a dynamic interface between the CIMMYT-CAAS maize team and the seed industry to begin rapid-cycle, genomic selection-based maize breeding, under an initiative titled "Eight + One"—that is, eight seed companies plus the CAAS institute of crop sciences—as an industry/institution collaboration platform for commercial maize breeding.
Senior managers addressing participants included David Bergvinson, senior program officer of the Bill & Melinda Gates Foundation; GCP director Jean-Marcel Ribaut; Shumin Wang, deputy director, CAAS-ICS; and from CIMMYT, Gary Atlin, associate director of the CIMMYT global maize program, and Kevin Pixley, director of the genetic resources program.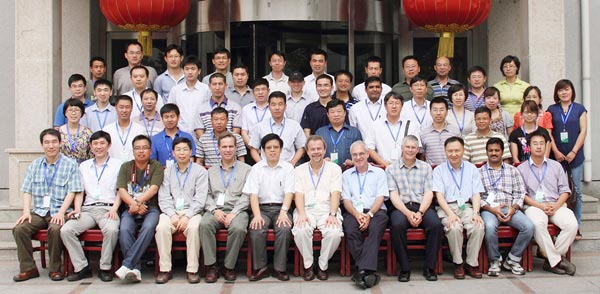 Scientists presented on CIMMYT work in genomic selection (concept and CIMMYT activities, Xuecai Zhang), double haploid approaches in maize breeding (Daniel Jeffers), marker-assisted selection in maize breeding (Yunbi Xu), modeling and simulation in plant breeding (Jiankang Wang), bioinformatics and computing needs for genomic selection (Gary Atlin), and our breeding pipeline and examples from lowland tropical maize breeding (Xuecai Zhang). BGI-Shenzhen's Gengyun Zhang described the company's genotyping platforms and service. A group discussion addressed rapid-cycle maize breeding through industry-institution collaboration, such as the molecular breeding network in China, coordinated genotyping and phenotyping, use of temperate and tropical DH inducers, environmental data collection, and standardization of maize trials.
Participants also attended an "Open Day for Chinese Breeders," a concurrent session of the 3rd Annual Meeting of Integrated Breeding Platform Project organized by GCP and CAAS, were introduced to IB FieldBook and IBP Analysis Tools. "(This workshop) came at a right time and brought us right information and knowledge for accelerating maize commercial breeding," said Zanyong Sun, Vice president of Beijing Denong Seed Co. The workshop's chief organizer, maize molecular breeder Yunbi Xu, sees it as an important first step for industry institution initiatives. "We'll establish a common genotyping and MAS platform to serve the Chinese maize breeding community," he said.