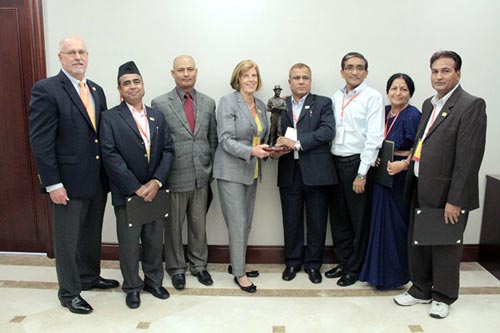 The first-ever Borlaug Global Rust Initiative (BGRI) Gene Stewardship Award was awarded to the Nepal wheat team for their performance in promoting durable wheat varieties and enhancing food security. The award was handed to the Nepal team at the BGRI Technical Workshop in Beijing, China, held during 1-4 September 2012. It was announced at a special ceremony by Ronnie Coffman (BGRI vice chair) and presented by Jeanie Borlaug Laube (BGRI chair).
The Stewardship Award recognizes a researcher or team of researchers serving a national breeding program or other nationally based institution. Award recipients demonstrate excellence in the development, multiplication, and/or release of rust resistant wheat varieties through appropriate means that encourage diversity and complexity of resistance, promote the durability of the materials, and help implement BGRI's goal of responsible gene deployment and stewardship.
The Nepal team, led by Madan Raj Bhatta and consisting of Sarala Sharma, Dhruba Bahadur Thapa, Nutan Raj Gautam, and Deepak Bhandari, was nominated by Arun Joshi (CIMMYT senior wheat breeder). "The wheat research team of Nepal has contributed remarkably to bringing about the excellence in the development and release of rustresistant wheat varieties, seed multiplication of resistant varieties with diverse genetic backgrounds, disease surveillance, participatory research with farmers, and improvement of livelihoods of smallscale farmers to combat the problems of food security," Joshi explained. "This shows what a small program can do to serve farmers and enhance productivity and sustainability."
Currently, the wheat research team works to release Ug99 resistant varieties of wheat and disseminate the new varieties to resource poor farmers. The Ug99 resistant seed is expected to cover around 5.4% of the area under cultivation for wheat in Nepal by the end of the current cycle (2011-2012). The team has also increased awareness about resistant varieties and pre-release seed multiplication among farmers, seed industry, planners, and national agriculture system. The resistant high-yielding varieties have been developed through collaboration between NARC and international research centers: CIMMYT, the International Center for Agricultural Research in the Dry Areas (ICARDA), and BGRI. According to Madan Raj Bhatta (Nepal Agriculture Research Center, NARC), "the new technologies and wheat varieties introduced by the team have brought a significant increment in area and productivity of wheat during the last five years." The wheat area increased from 0.7 mha to 0.8 mha, production from 1.4 metric tons to 1.7 metric tons, and productivity from 2.1 tons per hectare to 2.3 tons per hectare.
In addition to its work in Nepal, the wheat team has maintained strong international collaborations by actively working with internationally recognized institutions, such as CIMMYT, BGRI, Cornell University, University of Sydney, University of Minnesota, Indian Council of Agricultural Research, and Bangladesh Agriculture Research Institute. During the ceremony, NARC representatives praised the impressive performance of wheat varieties developed by the head of CIMMYT Global Wheat Breeding program Ravi Singh. Dil Bahadur Gurung (NARC executive director) expressed happiness with the wheat team's achievements and highlighted its importance for Nepal.