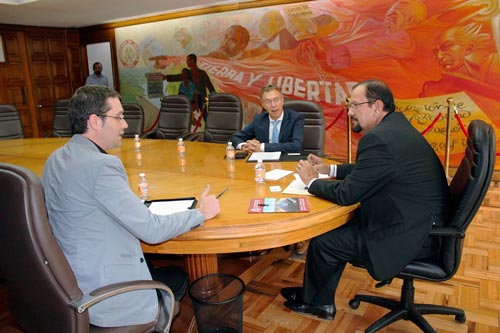 As part of his plan for working with Mexico, CIMMYT's host country, on 24 June Director General Martin Kropff held an introductory meeting with Senator Manuel Cota, leader of Mexico's National Peasant Confederation (Confederación Nacional Campesina/CNC), an organization comprising more than five million smallholder farmers. Sustainable development and scientific innovation were some of the key issues discussed.
Senator Cota acknowledged CIMMYT's importance and said that he and his group are proud that CIMMYT is headquartered in Mexico. He recounted CIMMYT's history, mentioning that it was founded in Mexico during the administration of President Adolfo López Mateos, who left a historic legacy of worldwide significance.
"CIMMYT has the support of the association I represent and Mexican legislators are very sensitive to rural issues, so there is no doubt that they are extremely willing to collaborate with science to generate innovations that benefit the agricultural sector," said Senator Cota.
Kropff said that it is most important to establish useful strategies that help farmers, and that it is essential to incorporate research and innovation into the seed sector and public and private organizations.
"Since my arrival, I've heard about CNC–CIMMYT collaboration, and I feel very grateful and recognize that it is essential to have the support of such an important organization," said Kropff. "Furthermore, this recognition is international because it was due to the efforts of small-scale farmers that the Center received the 2014 Norman Borlaug Award for Field Research and Application as part of the World Food Prize", concluded Kropff.