CIMMYT E-News, vol 6 no. 5, August 2009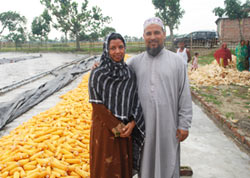 Farmers in northern Bangladesh are making money off maize thanks to training and support from CIMMYT and partners. A relatively new crop in Bangladesh, maize has been mostly grown for the poultry feed industry. But now agricultural entrepreneurs want to promote the crop for human consumption and farmers are starting to eat some of the maize they grow.
Rice is king in Bangladesh. But the fields are increasingly tall and yellow with maize as one heads north to the state of Patgram, which borders India. Farmers in the village of Ghonabari, known for its spicy food, have had remarkable success growing maize as a cash crop for the poultry feed industry.
"Maize is very well-suited to the country's fertile alluvial soils and can be grown almost any time, except for during the rainy season," says Enamul Haque, CIMMYT-Bangladesh cropping systems agronomist.
In Bangladesh, maize usually produces around over 5.5 tons per hectare but lots of farmers in Patgram say they are getting even higher yields—as much as 9.5 tons per hectare. Their secret? Many participated in CIMMYT's whole family training (WFT) program to learn to grow the crop.
Agriculture is a family affair in Bangladesh, explains Haque. "Men, women, and children work as a team in the field and together decide at what price they will sell their crop," he says. WFT offers an opportunity for the whole family to learn together with agricultural picture books that are complemented with simple explanations on how to plant and harvest maize. The maize WFT manual has minimal text in Bangla but the pictures make it easy to understand, even for farmers who can't read. More than 30,000 WFT manuals have been distributed and several non-governmental organizations, private sector companies, and government departments have also copied and used the WFT manual for maize promotion in Bangladesh, says Haque.
CIMMYT partnered with a local corn milling company—Doyel Agro Industrial Complex Ltd. —to deliver WFT. Each participating farmer received 2 kilograms of hybrid seed at the end of the training. Farmers grow the maize and sell it to Doyel, which then dries, stores, and sells it for poultry feed.
Loans help break cycle of poverty
The 25 or so seated farmers talking to Haque all stand respectfully as Ershad Hossain Saju, the local representative of Doyel, enters the room. He and his wife (see photo above) gave farmers loans for agricultural inputs such as fertilizer, which help improve yields. By acting as guarantors, the Sajus gave the farmers a reasonable interest rate and saved them from having to give the bank a 20% bribe to get loans.
Their business suffered last year due to Avian flu and several cyclones, say the Sajus, adding that the price of maize also dropped. Despite the fact that only about 70% of farmers have paid them back for the loans, the two voice no regrets. "I feel I made a difference in the livelihoods of poor farmers, and this is what Allah my creator told me to do," says Mr. Shaju.
At the meeting, Mr. Shaju listens as local farmers tell Haque how growing maize has helped change their lives. "I used to have a straw house, now my house is made from brick," says one. "We use maize stubble in our cooking fire," says another. "Land prices have gone up and it costs more to hire someone to work in your field," says a third. This last change reflects local prosperity and can be difficult for farmers who are used to paying less for field laborers. But other changes suit the farmers just fine; around half have upgraded their bicycles for motorcycles. The faster transport means their children are able to attend a better school outside the village, and they themselves can travel for other business activities.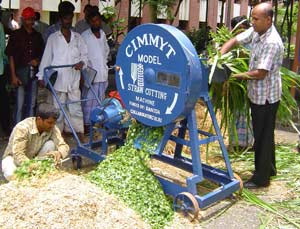 From poultry to people
Improved maize yields means there is more to go around, and the crop seems to be creeping into the diet of Bangladeshis, who live in one of the world's poorest and most densely populated countries. During the food crisis, farmers say they noticed cobs missing from their fields as villagers were stealing maize to eat. Chapattis, the traditional flatbread, are usually made with wheat flour, but people are stretching their wheat flour by adding maize flour to put more chapattis on the table. Farmers in Ghonabari have also been popping maize kernels as a snack for their children, or grinding and cooking maize with sugar, spices, chili, and ginger. "Around 15% of maize in Bangladesh was consumed by people last year," says Haque.
The area planted with maize has been expanding since the early 2000s, driven by demand from the poultry feed industry. There were around 137,000 hectares of maize planted in 2005-06, according to a CIMMYT report, which jumped to 179,000 hectares in 2006-07. "My goal is to only use locally-produced maize," says Md. Mizanul Hoque Mizan, vice chairman of Doyel. His company currently uses Bangladesh-grown maize for about four months out of the year, after which it imports maize from neighboring countries to meet their business needs.
Maize likes it hot
Doyel is working with the Bangladesh Rural Advancement Committee (BRAC) to promote white maize for people to eat. And as temperatures rise due to global warming, maize could help feed the country's growing population. "Maize yields about three times what rice and wheat typically yield and can better withstand high temperatures," says Haque. "With a population of 156 million people, we have a lot of scope for maize consumption in Bangladesh," says Mizan.
For more information: Enamul Haque, CIMMYT-Bangladesh cropping systems agronomist, e.haque@cgiar.org.