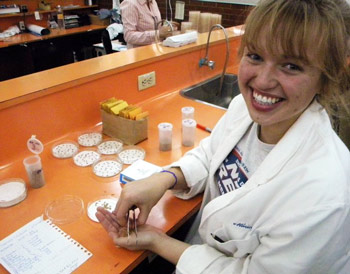 Many scientists begin exploring at a young age; they try to figure out the things they don't know, ask questions of others, and see how this information might be useful to them in creating new knowledge. The very lucky ones might have a mentor, or at the very least, a place where they are encouraged to cultivate their curiosity and use what they find out to help others.
This is one of the many reasons why CIMMYT participates in hosting Borlaug-Ruan Interns. Since 1998, over 180 Borlaug-Ruan Interns have traveled to Bangladesh, Brazil, China, Costa Rica, Egypt, Ethiopia, India, Indonesia, Kenya, Malaysia, Mexico, Peru, Philippines, Taiwan, Tanzania, Thailand, Trinidad, and Turkey; CIMMYT has proudly hosted 19 of these intelligent, ambitious individuals. One such student, Elizabeth Roche, visited CIMMYT-Mexico during the summer of 2011. "I loved every minute of my two month internship at CIMMYT," she said. "Working in the wheat pathology lab enabled me to learn so much about agriculture and global food security." Elizabeth is now majoring in Plant Pathology at Ohio State University. According to Hans Braun, Director of CIMMYT's Global Wheat Program, by actively working alongside senior scientists, in the lab and the field, interns "really experience what science is. This is not sitting in a classroom reading from a textbook; it is about discovering a potential career and being inspired to further their scientific knowledge."
Last summer, Tessa Ries left her hometown of Hastings, Minnesota, to conduct an internship at CIMMYT-Turkey. Based mainly at the field station in Eskisehir, Tessa worked alongside wheat pathologists screening wheat for resistance to crown rot and cereal cyst nematodes, two of the most serious constraints to wheat production in the region. Tessa is now studying at the University of Minnesota and has written a blog for the Global Agricultural Development Initiative about her time at CIMMYT. In 2013, CIMMYT hopes to welcome two more interns to its centers in Mexico and Turkey, continuing Norman Borlaug's mission in inspiring young people worldwide to join the fight against hunger.
For more information on the Borlaug-Ruan International Internship click here.