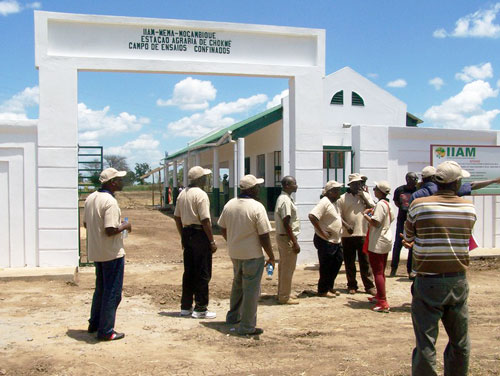 Good news from Africa! Policy breakthroughs on transgenic research in Mozambique and Tanzania have led to approval of confined field trials (CFTs) and a more research-friendly regulatory framework, respectively.
Mozambique's CFTs will be at the Instituto de Investigação Agrária de Moçambique (IIAM; Agricultural Research Institute of Mozambique) research station at Chokwe, some 200 kilometers north of the country's capital, Maputo.
Next door in Tanzania, an erstwhile stringent policy that was prohibitive in terms of the onerous liability it placed on researchers has been favorably revised. What all this means is that the two countries – which have been somewhat lagging behind on account of policy constraints – can now more substantively engage in the Water Efficient Maize for Africa (WEMA) project to a fuller extent, and be more in step with other WEMA partners.
 These momentous breakthroughs were revealed at the 7th WEMA Project Review and Planning Meeting in Maputo, Mozambique, which took place February 8–12, 2015. In his opening remarks, Dr. Inacio Mapossé (pictured left), IIAM's Director General, said that Mozambique's Ministry of Agriculture had been renamed to the Ministry of Agriculture and Food Security. This, he emphasized, was not just an exercise in words, but also underscored the importance of projects such as WEMA. In his words, "In Mozambique, you cannot talk about food security without talking about maize." True. Statistics show that nearly all (95 percent) of Mozambique's smallholders grow maize (report forthcoming), and that maize covers nearly half (40 percent) of the land devoted to annual crops. Hence, the ministry could well have been renamed to 'The Ministry of Maize' and the cap would have fitted!
But back to policy and regulatory frameworks, despite the recent breakthroughs, more remains to be done. In Kenya, the 2012 ban on importation of genetically modified organisms is still in force. And while there has been remarkable progress in Tanzania and the policy is less stringent on transgenic research, there is still more ground to be covered. Uganda is yet to pass the Biosafety Bill.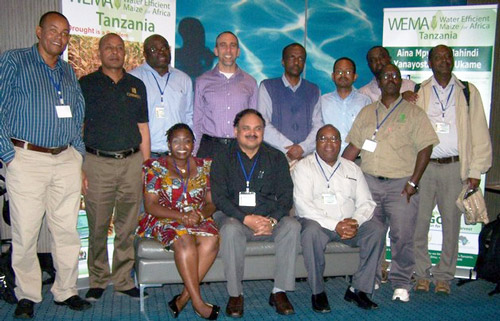 The menace posed the maize lethal necrosis (MLN) disease was high and hot on the agenda, given its threat to Africa's food security. MLN diagnostics and management call for concerted action by all players in the maize value chain, with regulatory frameworks playing a key role. CIMMYT has an open call for MLN screening for the cropping season starting at the end of this month.
CIMMYT participants at the WEMA annual meeting included, among others, Dr. B.M. Prasanna, CIMMYT's Director of the Global Maize Program and a member of WEMA Executive and Advisory Board, and Dr. Stephen Mugo, Coordinator of CIMMYT activities in WEMA.
Led by the African Agricultural Technology Foundation, the WEMA project is now in its second phase, which will end in 2017. Aside from WEMA, CIMMYT has had a long and fruitful engagement with Mozambique, as this brief dating back to 2008 attests.