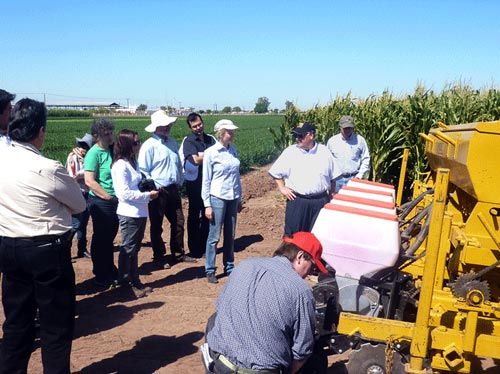 On 22 February 2012 we welcomed Howard G. Buffett and members of Sonora's 'Patronato' (Patronato para la Investigación y Experimentación Agrícola del Estado de Sonora; PIEAES) to CIMMYT's CENEB (Campo Experimental Norman E. Borlaug) station near Ciudad Obregón, Sonora, Mexico. The visit emphasized our joint concerns to improve food security and identified shared interests for improving opportunities for smallholder farmers and local entrepreneurs, and for widespread promotion of CA.
Patronato is a union of farmer organizations that has supported research by CIMMYT and partners such as INIFAP throughout the last four decades. This support has enabled greater advances in the state of Sonora, Mexico and throughout the world.
In addition to being a philanthropist, entrepreneur, and author, Howard G. Buffett is a farmer actively practicing no-till methods (a key component of CA) on his farm in Nebraska. He has strong links with Mexico; in 2000, he received the Aztec Eagle Award, the highest honor bestowed on a foreign citizen by the Government of Mexico. Currently, he acts as an Ambassador Against Hunger for the United Nations World Food Programme, and in 2011, the World Food Programme awarded him the George McGovern Leadership Award, alongside Bill Gates.