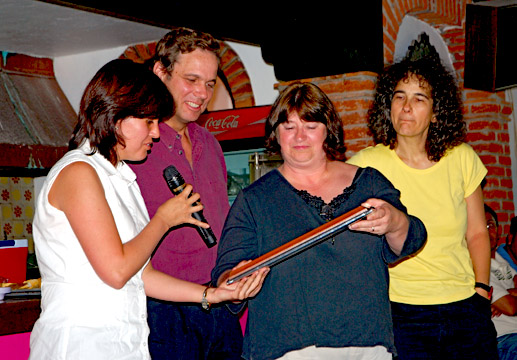 Coworkers, family, and friends gathered on 23 October 2009 in El Batán's Rincón Mexicano to say goodbye to Kevin Pixley, former associate director of the Global Maize Program (GMP), who will start work at the University of Wisconsin in November. He will remain involved with CIMMYT activities as a partnered scientist and will dedicate 50% of his time to HarvestPlus, an international, interdisciplinary program to alleviate nutritional deficiency through breeding micronutrient-enriched staple foods.
"I hope it isn't too unfair of me to enjoy a goodbye party, since I will be coming back frequently to continue working on old projects, and hopefully new ones as well," Pixley joked after a round of emotional goodbyes and well wishes.
Pixley joined CIMMYT in 1990 as a Ph.D. student and moved three years later to Zimbabwe to work as a maize breeder and later as the director of the regional program. He then spent time as the director of CIMMYT's Tropical Ecosystems Program and coordinator of HarvestPlus maize, altogether totaling nearly 20 years with CIMMYT.
During the farewell party, colleagues bestowed Pixley with three plaques—presented by Marianne Bänziger, deputy director general for research and partnerships; Raymundo López, Agua Fría Station superintendent; and Ignacia García, program assistant who presented on behalf of GMP-Colombia—and many remarked upon his outstanding leadership and teaching qualities. "When I first came into the (Global Maize) program, all I knew about maize was how to eat it," laughed George Mahuku, senior scientist/pathologist, adding that under Pixley's guidance he has learned a lot. After speeches, gifts, and a moving piano and vocal rendition of "Hey Jude," by Marcelo Pérez, Pixley and his wife Jill were serenaded by mariachis and enjoyed a video about Pixley's time at CIMMYT.
"It's not easy to leave a job that offers daily challenges and opportunities to contribute meaningfully—even in a small way—toward a better world," Pixley wrote in a goodbye email. "I've seen many changes at CIMMYT, but a shared passion and dedication to our mission remains the force that brings each of us to CIMMYT, lures each of us daily to the field, lab, office, meeting room, airport… and defines our individual and institutional character. It has been my great pleasure and privilege to work with you, and I thank you all!"