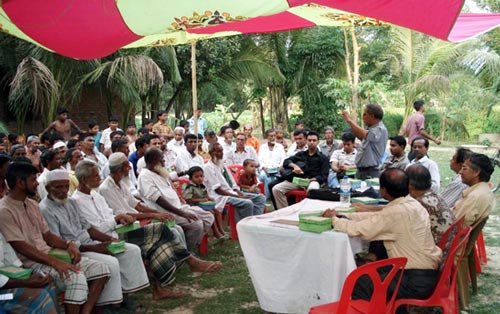 Various research and extensions workers collaborating with the project "Sustainable Intensification of Rice-Maize Systems in Bangladesh" organized five farmer field days throughout March and April 2010. The events took place in the districts of Comilla, Rangpur, and Rajshahi and attracted over 350 farmers.
During the field days, farmers gathered in front of maize fields with site-specific nitrogen management (SSNM) and conservation agriculture (CA) trials and shared their experiences, both positive and negative, with the researchers and extension workers. At all the project sites, there are CA farmer-participatory adaptive trials and researcher-managed SSNM trials for maize and rice. Some of the key new and improved CA technological options being introduced and promoted through these trials include maize planted under minimum tillage using a powertiller operated seeder (PTOS), strip tillage, zero tillage, fresh beds, and permanent beds. In all trials, farmers' common practice is compared with CA technologies, and researcher-managed SSNM trials have treatments ranging from zero to reduced levels of nitrogen, potassium, and phosphorus.
"These field days provided ample opportunities for farmers, stakeholders, and researchers to share their experiences with each other on these new CA technologies being introduced and promoted by the project," said Jagadish Timsina, IRRI-CIMMYT senior cropping system agronomist and project leader. "Grain yield and cost of production data are being collected from these trials that will allow us to compare the production and profitability of various CA technological options against farmers' current practice of growing maize."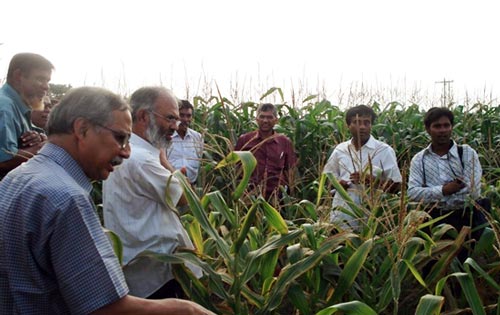 Though the project, which started in November 2008, initially focused on adaptive research in farmers' fields, it is now starting to emphasize dissemination of improved CA practicies and SSNM technologies to farmers as well. This will be done through training and capacity building with researchers, farmers, extension workers, machinery manufacturers, and service providers.
The project is run jointly by CIMMYT and the International Rice Research Institute (IRRI) and funded by the Australian Centre for International Agricultural Research (ACIAR) with national partners from governmental and non-governmental organizations. This project was recently featured in The New Nation: Bangladesh's Independent News Source.