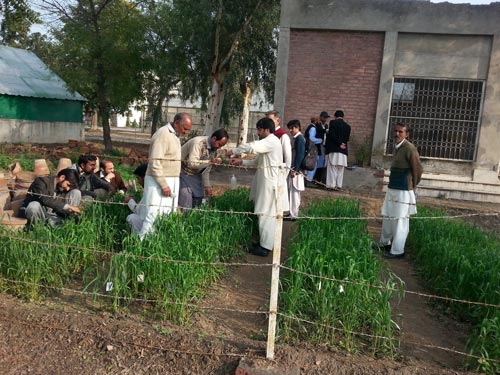 The Wheat Productivity Enhancement Program (WPEP) in Pakistan, led by CIMMYT and funded by the United States Department of Agriculture (USDA), is working to enhance and protect wheat productivity in Pakistan by supporting research leading to the identification, adoption and optimal agronomic management of new, high yielding, disease resistant wheat varieties.
The objective of the first Wheat Improvement Training Course, conducted from 1 March–24 April 2015, was to build the capacities of 20 early- and mid-career scientists and Ph.D. scholars from across Pakistan. Organized in collaboration with the Wheat Research Institute (WRI) and the Ayub Agricultural Research Institute (AARI) in Faisalabad, Punjab province, this unique learning opportunity included lectures, field demonstrations and lab work focusing on conventional and molecular breeding methodologies, plus wheat pathology, physiology and quality.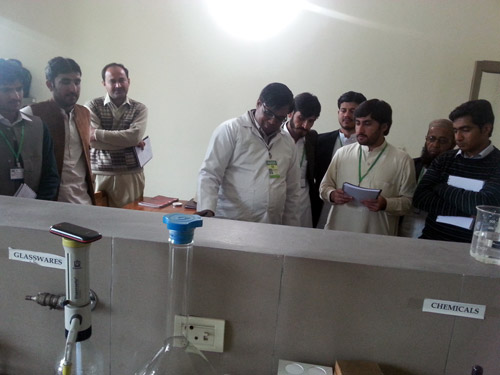 Another objective was to acquaint participants with new and improved wheat germplasm including both CIMMYT introductions and WRI local germplasm.
Specialists in wheat breeding, pathology, agronomy, physiology, statistics, entomology and quality shared their experiences with the participants, who also received hands-on training on emasculation and pollination procedures in wheat and barley; rust and Karnal bunt inoculation procedures in the field; varietal release procedures; the varietal release program; aphid identification; and rejection and selection criteria used in wheat trials.
The course was followed by a loose smut eradication campaign in AARI fields in Faisalabad, Punjab province. The participants also visited food technology laboratories where they observed various activities and equipment used for assessing protein and starch content, gluten tolerance and baking quality.