By Mahesh Gathala and Pat Wall/CIMMYT
A new project designed to improve farming systems in Bangladesh, India and Nepal kicked off work with a strategic planning meeting 19-21 May in New Delhi.
The Sustainable and Resilient Farming System Intensification (SRFSI) project, funded by the Australian Centre for International Agricultural Research (ACIAR), is scheduled to run for 50 months and will focus on the heavily populated Eastern Gangetic Plains, home to some 300 million people and the world's highest concentration of rural poverty. Together with farmers – especially women farmers – project staff will develop more intensive, sustainable and resilient farming systems by incorporating conservation agriculture (CA) and strategic supplementary irrigation into the current farming systems. The changes allowed by these two practices will permit more timely planting of the main cereal crops – rice, maize and wheat – increasing yield and allowing for a third crop to be sown between the main winter crop and summer rice. Supplementary irrigation will help ensure timely planting and act as a buffer against mid-season droughts, predicted to become more frequent with the advance of climate variability.
The project also calls for crop and system modeling to aid the development of farmer decision support tools, frequent farmer discussions and consultations, support and training of local service providers and agricultural dealers and farmer-to-farmer information exchange.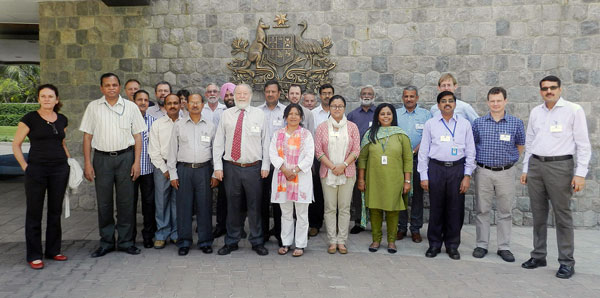 The meeting opened with an introduction to the program and background information from Dr. John Dixon, the ACIAR principal advisor responsible for SRFSI and a former director of CIMMYT'S Impact and Assessment (Socio-economics) Program, and Dr. Mahesh Gathala, a CIMMYT cropping systems agronomist and leader of the SRFSI project. Partners from the region then presented results from pre-project activities, including reports of field research in Bangladesh and West Bengal, and studies on the hydrology of the communities where the project will be based. Dr. Rasheed Sulaiman discussed a survey of potential partners for the innovation systems developed in the project.
With this background, workshop attendees began to focus on planning the field work for the coming summer season. Gathala and Andy McDonald presented a view of the researchable issues common to the project areas, followed by presentations from longtime CIMMYT partners in the region on opportunities for change. Based on these presentations, Gathala and Pat Wall, former director of CIMMYT's Global Conservation Agriculture Program who has been involved in the development of the SRFSI project, developed and proposed a core research program for the coming season based on direct seeding and/or direct transplanting of rice (a key strategy to reach CA systems), strategic supplementary irrigation of the rice crop and short-season rice varieties, all of which will enable timely harvest of the rice crop and allow for seeding of the winter crops at the optimum time. This plan will be discussed and refined with partners in separate country planning workshops.
Initially the SRFSI was to include a large component of technology out-scaling (commonly called extension), but ACIAR decided to make out-scaling the focus of a separate but associated project. Dixon discussed current thinking on the phases of technology generation, out-scaling, adoption and impact, followed by interesting and enlightening presentations on successful projects linking agribusiness and small farmers to achieve technology adoption from Sanjeev Asthana and N. Sai Krishna of the National Skills Foundation of India, Srivalli Krishnan of USAID and Madan Pariyar of the SRFSI partner organization, iDE. A framework for the project will now be developed and this will be the focus of discussion at the next planning workshop set for 6-7 July in Kathmandu, Nepal.