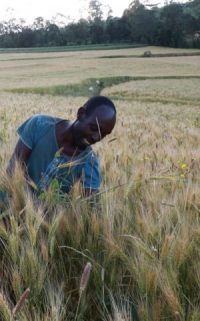 In response to Ethiopia's worst drought in 50 years and the country's critical shortage of maize and wheat seed for sowing in 2016, Ethiopian organizations, seed producers, and the International Maize and Wheat Improvement Center (CIMMYT) partnered to deliver to farmers over 3,400 tons of high quality seed that was sown on more than 100,300 hectares.
"We went three years without rain," says farmer Usman Kadir, whose 1.5-hectare homestead in Wanjo Bebele village, Halaba Special Woreda, supports a household of 11 persons. "We were able to eat thanks to emergency food programs." In 2017, Kadir used emergency maize seed to sow half a hectare and harvested 3 tons, getting his farm back on its feet. "If more new improved varieties come, we want to work with you and expand our farming operation."
Funded by the U.S. Agency for International Development (USAID) and Office of Foreign Disaster Assistance (OFDA) of the U.S. Ethiopia mission, seed relief complemented international and national food aid, helping farm families to quickly grow crops after several seasons of erratic or failed rains in Ethiopia and the catastrophic 2015-16 El Niño droughts. At that time, more than 10 million people struggled to find food, as eastern Ethiopia faced crop losses from 50 to 90 percent of expected yields.
"This effort helped rescue the food security and livelihoods of more than 271,000 rural households and 1.6 million individuals in Ethiopia's Amhara, Oromia, Tigray, and SNNP regions, and strengthened seed systems to address future climate, disease, and pest crises," said Bekele Abeyo, CIMMYT wheat scientist who led the seed relief initiative.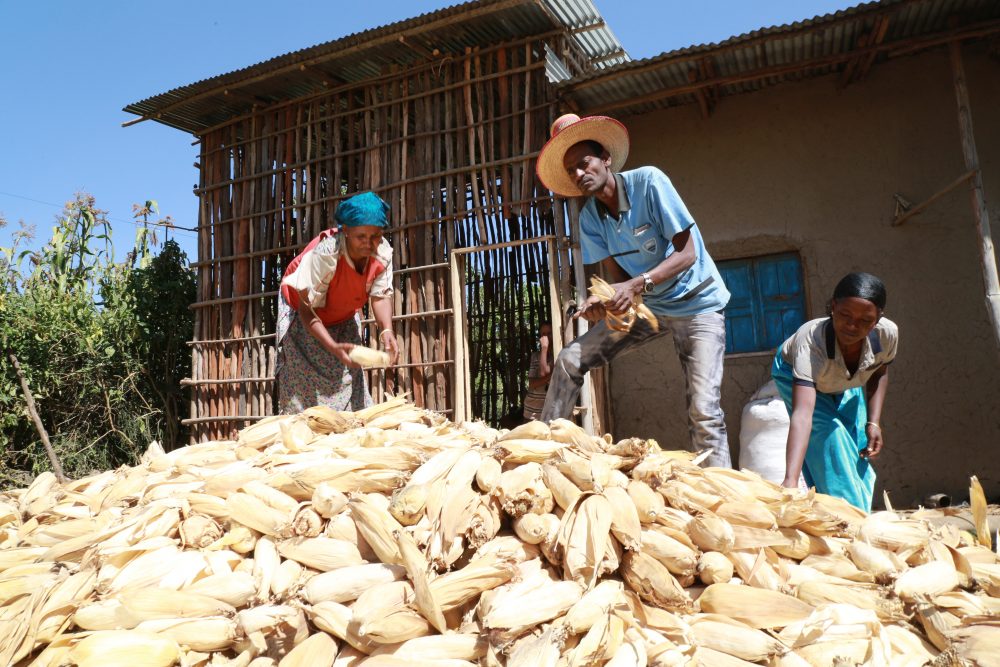 Wheat and maize: Mainstays of food security
Agriculture provides 42 percent of Ethiopia's GDP, 77 percent of employment, and 84 percent of exports. Subsistence, smallholder farmers predominate, making their living from less than two hectares of land. Wheat and maize are the most important crops for food security; they are also at the center of Ethiopia's increasingly vibrant agricultural output markets and have been the focus in recent years of public investment to raise national production.
Maize and wheat production in Ethiopia depends on rainfall, making the unpredictable weather patterns caused by climate change exceptionally detrimental here. Various studies predict an average 30 percent reduction in farm incomes due to climate change impacts, including greater extremes in temperatures and rainfall (floods, droughts) and the emergence of new pest and disease strains. Research shows that reduced precipitation is already holding back wheat yields.
To address this, experts identified maize and wheat varieties suitable for drought-affected areas and highly resistant to prevalent crop diseases. Of the maize varieties, some 10 percent were quality protein maize, which carries enhanced levels of key amino acids for protein synthesis in humans.
"This effort also provided training for district and zonal development agents in crop protection, agronomy, drought mitigation practices, and seed systems," said Abeyo. "Finally, five women seed producer associations received wheat seed threshers and a large union of farmer seed producer cooperatives received a maize sheller through the initiative. This equipment will greatly expedite their operations and contribute to the expanded and more reliable access of farmers to affordable, quality seed in the future."
Partners and contributors
Emergency relief seed was sourced through diverse CIMMYT partnerships, including producers in the USAID-funded "Drought Tolerant Maize for Seed Scaling Project" (DTMASS) and "Wheat Seed Scaling Initiative." Stakeholders included the Ministry of Agriculture and Natural Resources (MoANR), the Bureau of Agriculture and Natural Resources (BoANR), public and private seed companies/enterprises, farmer cooperative unions, federal and regional research institutes, and non-government organizations working in target areas. With funding from the Bill & Melinda Gates Foundation, Ethiopia's Agricultural Transformation Agency (ATA) helped deliver seed to drought-affected districts and jointly organized training and workshops.
Click here to read a full report on the emergency seed relief initiative.