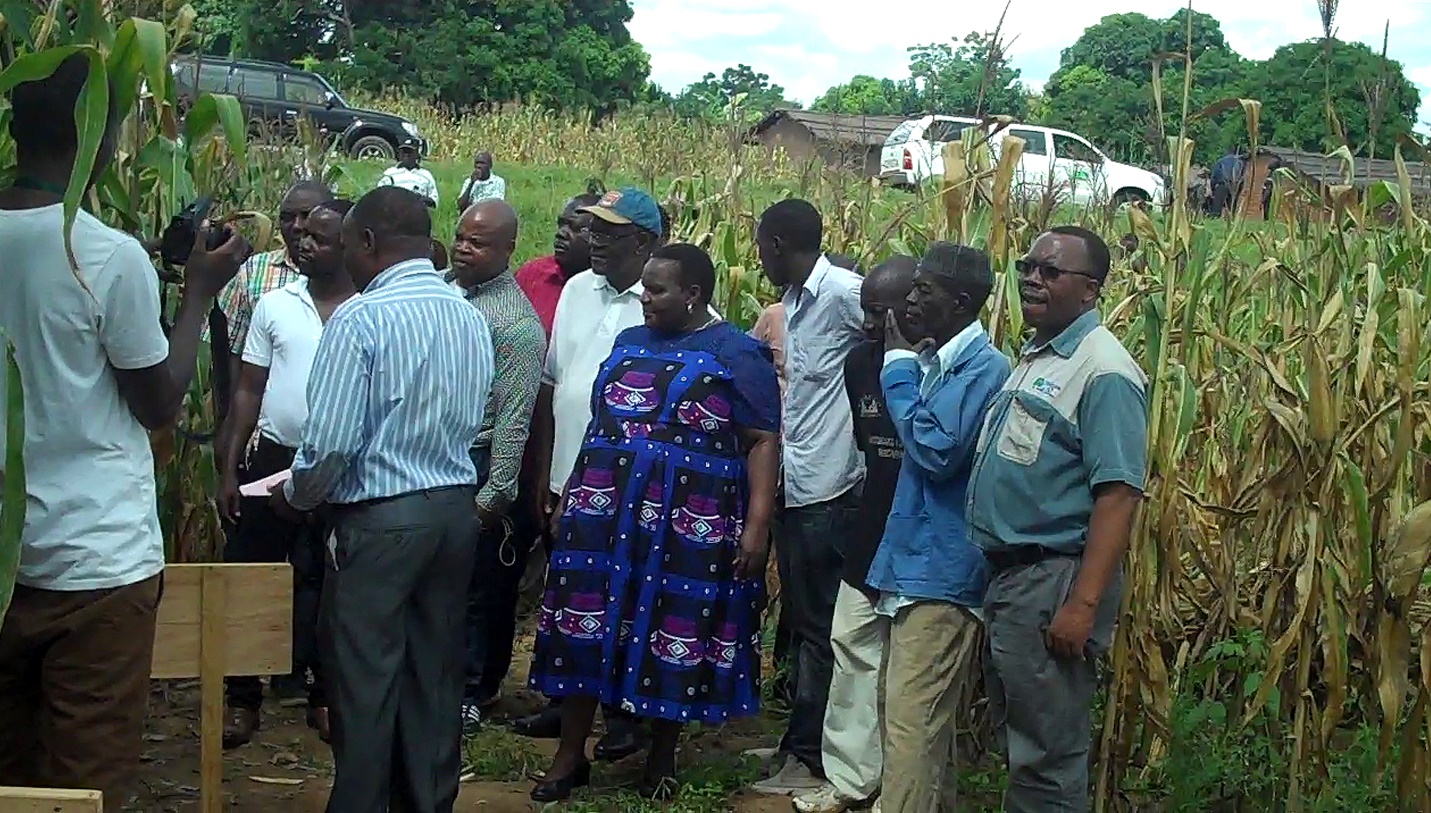 LILONGWE, MALAWI – As an El Niño-induced drought continues to devastate southern African food crops, the International Maize and Wheat Improvement Center (CIMMYT) promoted drought-tolerant maize to Malawian politicians at a field day in April.
With more than half of Malawi's population needing food relief due to drought, the Parliamentary Committee on Agriculture and Food Security launched an assessment of the food situation across the country, which brought nine government officials to Mangochi District to learn about the impact drought-tolerant maize and climate-smart agriculture are having on the livelihoods of farmers.
Representatives of the Malawi Improved Seed Systems and Technologies (MISST) project, funded by USAID Feed the Future and implemented by CIMMYT, demonstrated positive yield results of drought-tolerant maize varieties to the nine politicians and to 314 smallholder farmers (202 of them women) in Minyanga village.
Politicians and farmers alike were impressed by the quality and yield of the CIMMYT-bred varieties in comparison to local varieties.
"In spite of the erratic and low rainfall received, we are surprised that the drought-tolerant maize varieties managed to produce large cobs," said Mangochi Member of Parliament Lilian Patel, showing the maize cobs to other officials. "As an MP of this area, I am aware and scared by the scale, magnitude and impact of the drought in Malawi, but drought-tolerant maize varieties, alongside other technologies, have demonstrated that they are effective in coping with drought and climate change."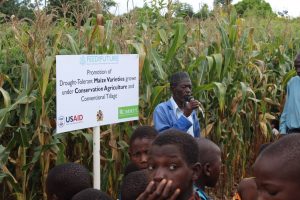 Farmer Annas Matola, the host of the demonstration field, was equally impressed by the performance of drought-tolerant maize varieties, saying, "The different maize varieties showcased here are very unique in the way they cope with and withstand the drought experienced this year compared to the other maize varieties in the neighboring field."
According to Felix Jumbe, chairperson of Parliamentary Committee on Agriculture and Food Security, the MISST project is a huge stepping stone for smallholder farmers in Malawi because it gives them the opportunity to use improved drought-tolerant varieties of different crops such as maize and legumes.
Malawi relies heavily on agriculture for its economic growth, with 80 percent of the country's population engaged full-time in this activity. Over the next two years, CIMMYT hopes to put drought-tolerant and nutritious maize in the hands of 300,000 people in Malawi.
In April, Malawian President Peter Mutharika declared a state of disaster in Malawi as severe drought continued to cause a sharp decline in crop production across the country. The projected drop in maize harvest from last year's output is estimated at 12 percent, according to the presidential statement, which also stated that, as a result, an estimated three million people are in need of urgent humanitarian food assistance.
The World Food Program (WFP) is currently assisting nearly three million people in 23 of Malawi's 28 districts, which are badly affected. "The current drought situation in Malawi came on the back of a bad crop last year, due to flooding which affected parts of the country,'' said WFP's southern Africa spokesperson David Orr.
The WFP warned in February that about 49 million people were at risk of being affected by drought in southern Africa, with 14 million already facing hunger in the region.
Erratic rainfall and record-breaking temperatures have already induced large-scale crop failures in most countries. South Africa has declared the recent drought its worst in at least 100 years, and will have to import half of the maize it consumes.
Drought occurs frequently in Malawi, especially in its drier parts, such as Balaka and Machinga, while in the Lower Shire districts of Chikhwawa and Nsanje, floods are a common occurrence affecting maize productivity and production. This, coupled with the effects of El Niño, led to heavy rains in northern Malawi during April, causing severe flooding and extensive damage to crops, infrastructure and property, as well as the death of 10 people.