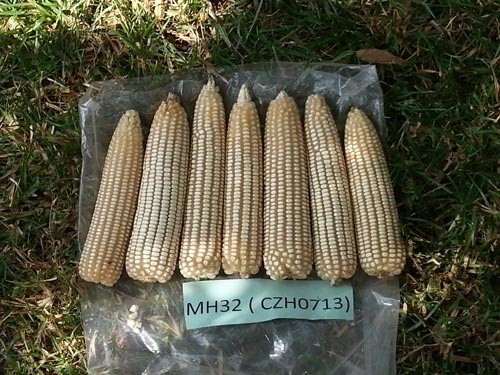 Three drought-tolerant maize hybrids performing well in drought-prone areas and tolerant of Malawi's major maize diseases have been released in Malawi. The new hybrids, said a member of the Agricultural Technology Clearing Committee, will contribute to the subsidy program that has seen Malawi become self-sufficient in maize production and even export surplus maize to neighboring countries. They will also be important in mitigating climate change. "Maize accounts for over 70% of cereal production," maize commodity team leader Kesbelll Kaonga explained the importance of maize for the country, adding that Malawians consume on average about 300 kg per year.
The hybrids, developed under the Drought Tolerant Maize for Africa (DTMA) project by the Malawian Ministry of Agriculture and Food Security and Chitedze Research Station in collaboration with CIMMYT and the International Institute of Tropical Agriculture (IITA), were also tested in farmers' fields. "The farmers liked them because of the high grain yield, drought tolerance, and flint grains," Kaonga said, explaining that Malawian farmers prefer flint maize because its grains store better and provide more flour per kilogram compared to dent maize. The new hybrids can yield up to eight tons per hectare under optimum conditions.
The hybrids—Malawi Hybrids 30, 31, and 32—have been allocated to local seed companies that will start seed production during the coming season. Most of the emerging seed companies depend on germplasm from CIMMYT and the national agricultural research systems, as they do not have their own breeding programs. Variety demonstrations and publicity materials are planned to promote seed delivery in collaboration with seed companies and the Chitedze Research Station. The Department of Agricultural Research thanked CIMMYT breeders and seed specialists Peter Setimela, Amsal Tarekegne, John MacRobert, and Cosmos Magorokosho, who worked closely with them to get the hybrids released.
The CRP MAIZE will be hosting a side event on the role of maize in Africa at the Africa Agriculture Science Week (15-20 July) on 16 July in Accra, Ghana. Join us if you can and follow the AASW Blog and #AASW6 on Twitter.