By Florence Sipalla/CIMMYT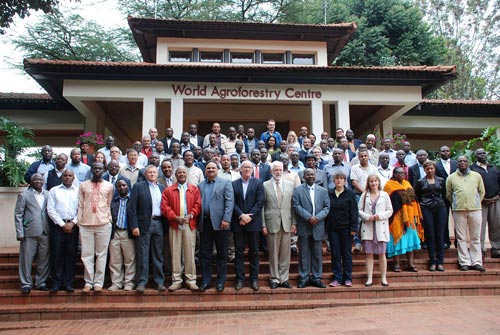 Partners from 13 countries working with the Drought Tolerant Maize for Africa (DTMA) project said they benefitted from its help during the 2012-13 crop season. DTMA trained maize breeders and technicians, rehabilitated seed storage facilities, supported research institutes and seed companies to release varieties and produce breeder seed and began hybrid seed production in places where seed companies did not exist. Project partners from eastern, southern and West Africa met in Nairobi, Kenya, from 23 to 27 September for DTMA's annual meeting. They discussed progress made in developing and deploying drought-tolerant maize varieties to benefit smallholder farmers in Africa. Maize varieties that respond to climate change challenges – such as drought and infrequent or unevenly distributed rainfall – are key in helping those who depend primarily on rain-fed agriculture. The DTMA project is funded by the Bill & Melinda Gates Foundation.
Officials who opened the meeting included Thomas Lumpkin, director general of CIMMYT; Ylva Hillbur, deputy director general of the International Institute for Tropical Agriculture (IITA); Ephraim Mukisira, director of the Kenya Agricultural Research Institute (KARI); and Joseph De Vries, director of the Alliance for a Green Revolution in Africa (AGRA) Program for Africa's Seed Systems (PASS). DTMA has released 140 drought-tolerant maize varieties since 2007, including 81 hybrids and 59 open-pollinated maize varieties. These varieties perform well under drought stress as well as adequate rainfall. "Over the last seven years, DTMA has made significant progress in developing and delivering improved technologies," Lumpkin said. "Farmers have also benefited from [drought-tolerant] varieties that possess other desirable traits such as resistance to major diseases such as maize streak virus and gray leaf spot," he added. Mukisira highlighted the partnership between CIMMYT and KARI. KARI centers in Embu, Kakamega and Kiboko, Kenya are part of the drought screening network and the organization's socioeconomics team is working with DTMA on household surveys across the country. Mukisira said the collaboration produces evidence-based research findings that help inform and engage policy makers. CIMMYT and Kari recently opened two major maize research facilities in Kenya.
Meeting participants participated in the openings, which were inaugurated by Felix Koskei, Kenya's Cabinet Secretary for Agriculture, Livestock and Fisheries and Sicily Kariuki, principal secretary for the Kenyan Agriculture, Livestock and Fisheries Ministry. Lumpkin thanked DTMA donors, especially the Bill & Melinda Gates Foundation, for supporting DTMA as well as the new maize doubled haploid and maize lethal necrosis screening facilities, the latter of which is co-funded by the Syngenta Foundation for Sustainable Agriculture. The national agricultural research system and small- to medium-sized seed companies working with CIMMYT maize projects such as DTMA will be key beneficiaries of these facilities.
Mukisira recognized the role seed companies play in deploying drought-tolerant seed for market and making it accessible to smallholder farmers. "We encourage you to continue investing in the marketing and promotion of improved droughttolerant maize varieties," he said. Hillbur said the strong partnerships DTMA has built with the national agricultural research system and seed companies as well as the "top quality science approach involving the breeders, economists, social scientists and seed systems specialists" are two of the project's distinguishing factors. DTMA Project Leader Tsedeke Abate said the project is moving toward its goal of reaching more than 30 million farmers with drought-tolerant maize varieties by the end of 2016. The national agricultural research systems will be key players in breeding and disseminating improved varieties, he said. Moving forward, the project will continue to help mainstream drought-tolerant varieties, enhance seed systems partnerships with AGRA-PASS, build the capacity of the national agricultural research system to produce breeder seed, mainstream gender and build on socioeconomic research to provide evidence for policy advocacy.