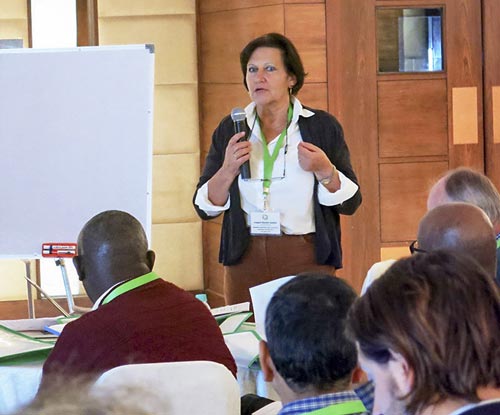 Developing a global 'community of practice' for sustainable intensification (SI) and the need to define indicators for measuring SI activities were highlighted at the cross-learning SI event hosted by Cereal Systems Initiative for South Asia (CSISA) on 28 January in New Delhi, India.
A group of 50 participants from USAID, the Bill & Melinda Gates Foundation (BMGF), Africa RISING, USAID's Sustainable Intensification Innovation Lab, the Innovation Lab for Small-scale Irrigation, CIMMYT, the International Food Policy Research Institute, International Livestock Research Institute and International Rice Research Institute attended the event and shared perspectives on SI in African and South Asian contexts.
Applying principles of SI in mixed crop-livestock systems is key to achieving better food security and improved livelihoods, while minimizing negative impacts on the environment. The full-day program looked at the approaches taken by SI projects of CSISA and Africa RISING, collaborative research opportunities by the Sustainable Intensification Innovation Lab and the Innovation Lab for Small-scale Irrigation and the perspectives of donors who fund SI projects.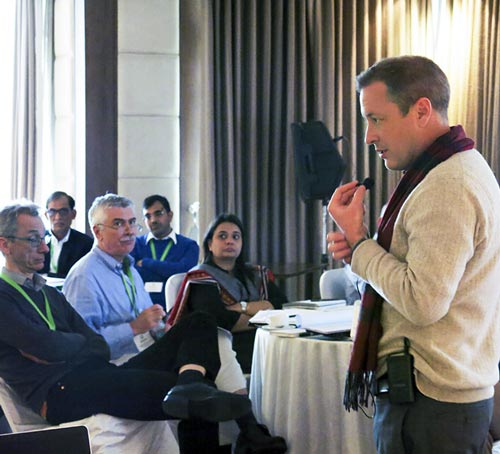 "We need broad systems programs to make impacts truly happen," said Thomas Lumpkin, Director General, CIMMYT, talking about CSISA's cropping systems approach at the start of the event. He added, "We should get more value chains involved and look at regional and global levels to extract maximum value from our R4D projects." Andrew McDonald, CSISA Project Leader, talked about the history and context of CSISA, highlighting its 10-year vision of success that aims to significantly increase the incomes and staple crop productivity of 6 million farm families by 2018.
Christian Witt, Senior Program Officer at BMGF, gave a brief overview of the Foundation's global and regional strategies in SI, which highlighted significant investments in digital soil mapping in Africa and work with CIMMYT to merge soil data with agronomic research. "We are also enhancing communication within farming communities through informal methods. A good example is our partnership with Digital Green," he added.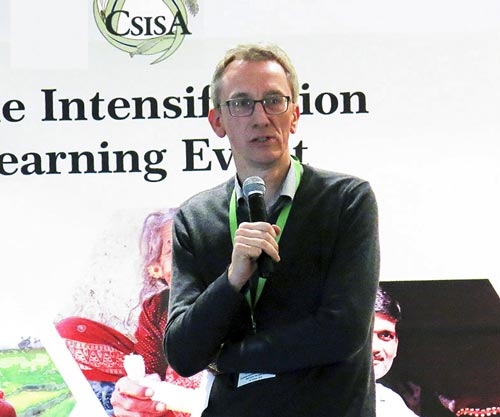 The event provided CSISA an opportunity to discuss its current status in India and Bangladesh and to outline the potential future direction of CSISA as a regional initiative, now that CSISA Phase II is being renewed. A series of presentations also outlined the project's progress and emerging priorities in strategic agronomic, livestock, socio-economic and policy research and rice and wheat breeding.
Following the event, a group of 13 representatives accompanied members of CSISA's leadership team on a tour of CSISA sites in Bihar and Odisha over the course of a week in January and February. The tour was designed to enable cross-learning among the flagship SI investments of USAID.