By Walter Mupangwa and Christian Thierfelder/CIMMYT
The quiet Khokwe village in the Chanje Central Block in Chipata district, Zambia, was buzzing with activity on 2 April when six traditional chiefs visited the Sustainable Intensification of Maize-Legume Systems for the Eastern Province of Zambia-Africa Rising (SIMLEZA-Africa Rising) project.
Traditional leaders in African societies hold deep-rooted power in the communities, make important decisions on land use and distribution and guide villagers in times of change and uncertainty. Smallholder farmers in the Eastern Province face high labor costs and low labor availability and are confronted with the negative effects of climate variability, which require climate-resilient, low-cost alternatives to improve farm productivity. Conservation agriculture (CA)- based management practices, combined with drought-tolerant maize varieties, as suggested by SIMLEZA-Africa Rising, can reduce production costs and improve resource-use efficiency, productivity and profitability. Farmers from communities surrounding Khokwe warmly welcomed the six chiefs drawn from Chewa- and Tumbuka-speaking tribes of eastern Zambia.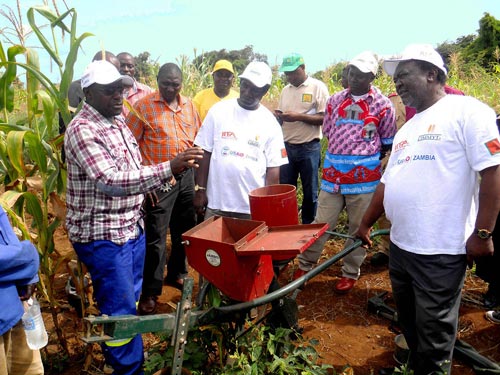 Nyao traditional dancers known as "Gule Wankulu" and Ngoni dancers also joined the farmers in welcoming and entertaining the chiefs, who were accompanied by two representatives from the Ministry of Chiefs Affairs, village headmen, councilors and officers from the District Agricultural Coordinator's Office (DACO). They were invited by the SIMLEZA-Africa Rising project team with representatives from CIMMYT, community agricultural committees, the International Institute of Tropical Agriculture (IITA), the Ministry of Agriculture and Livestock (MAL), the National Agricultural Information Service (NAIS), Total LandCare (TLC) and the Zambia Agricultural Research Institute (ZARI). SIMLEZA-Africa Rising is funded by USAID-Feed the Future. The chiefs visited trial sites in Khokwe, including a maize regional on-farm trial.
Farmers are directly involved in selecting the best maize varieties from the 20 that are being tested, which was emphasized in explaining participatory varietal selection. Most crops appeared stressed by drought, as the area had not received any rain for one month. ''These varieties are really drought-tolerant,'' remarked Chief Magodi as participants left the maize regional on-farm trial to visit a maize mother-baby trial, where 12 drought-tolerant maize varieties are being tested. At the CA trial, the chiefs studied maize crops planted under zero tillage in rotation or intercropped with cowpeas.
The chiefs observed that maize in the ridge and furrow system was severely moisture-stressed while maize on the CA plots was still green and growing well. ''I never knew that there are such activities happening in our district,'' exclaimed Chief Misholo from the Chiparamba block in Chipata district, adding that the visit was an "eye-opener" for him.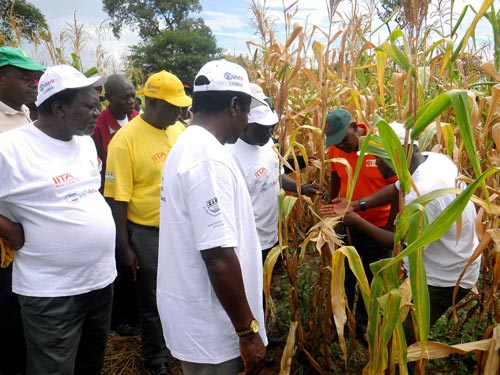 CIMMYT's Walter Mupangwa highlighted environmentally-friendly products used on CA fields and the procedures farmers should follow when using herbicides. for weed control. Next to the CA field, new animal traction seeding equipment was showcased, including the animal traction direct seeder, Magoye ripper tines and a hand-held no-till planter. An agro-dealer from ATS Agro-Chemicals, part of the SIMLEZA-Africa Rising innovation network, displayed the herbicides and pesticides available for smallholder farmers in the region. Farmers were keen on interacting with the traditional leaders on farming-related issues. Main discussion points included the need to improve market links and information flow for soybean and maize crops.
Chief Mban'gombe encouraged farmers to diversify the crops they grow in the face of low prices for maize. The chiefs strongly advocated for SIMLEZA-Africa Rising to set up trials in their areas to help disseminate technology to more farming households within their jurisdiction. The chiefs' visit is a major breakthrough for the SIMLEZA-Africa Rising project. The support of traditional leaders is a main driver of change toward more sustainable intensification.