By Imtiaz Hussain and Imtiaz Muhammad/CIMMYT
CIMMYT's Conservation Agriculture Program (CAP) is addressing the lack of good quality conservation agriculture (CA) seeders and multi-crop planters in Pakistan. Under the USAID-funded Agricultural Innovation Program for Pakistan, CAP will facilitate pilot testing and refining CA-based multi-crop seeders in cereal systems. CIMMYT-Pakistan imported multi-crop happy seeders, bed planters and zero tillage drills from India with the cooperation of CIMMYT-India. This machinery arrived at the National Agriculture Research Center, Islamabad, at the end of February.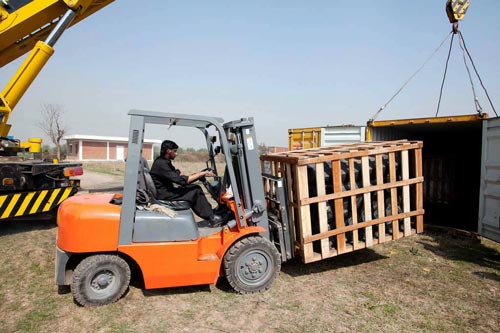 CIMMYT brought CA to Pakistan in the 1980s with the introduction of zero tillage drills in rice-wheat areas. The technique helped solve the issue of late planting in ricewheat cropping systems. With the mechanization of harvesting, however, the burning of crop residue has become problematic. In addition, huge amounts of standing and loose residue affect the first-generation zero tillage drill. Farmers in Punjab hand-plant hybrid maize and cotton crops on already-made ridges and wide beds; there is also need to mechanize this operation.
The pilot testing of new seeders will start this year in cropping systems such as rice-wheat, maize-wheat, cotton-wheat and rain-fed wheat. The seeders will help farmers plant different crops under different levels of residue to reduce residue burning. CIMMYT will provide CA seeders to national agriculture research system partners for use in agriculture extension and adaptive research and for demonstrations in farming communities.
The activity will also promote the refinement and production of resource-conserving seeders through public-private partnerships in the project area.