The collaborative nature of the Seeds of Discovery (SeeD) initiative was highlighted at a seminar on 12th July, with Hans Braun, director of CIMMYT's Global Wheat Program, calling for an "open and frank conversation" between associates. The 25 participants, from CIMMYT and the National Institute of Forestry, Agriculture, and Livestock Research (INIFAP) gathered at El Batán for a working meeting coordinated by Carolina Saint-Pierre, Genetic Resource Phenotyping Coordinator, CIMMYT, to discuss the development of collaborative projects for wheat phenotyping within SeeD, one of the four components of the Sustainable Modernization of Traditional Agriculture (MasAgro) project.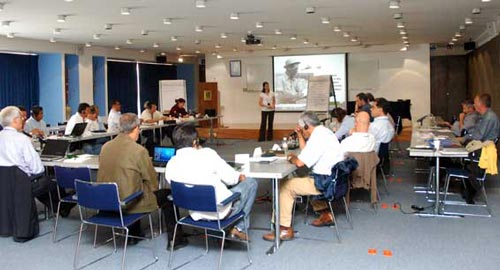 In the opening session, SeeD coordinator Peter Wenzl highlighted how collaborations within the SeeD initiative will be vital to the success of the project: "CIMMYT is unable to conduct all the work on its own," says Wenzl. Besides alliances with INIFAP and the International Center for Agricultural Research in the Dry Areas (ICARDA), the SeeD initiative will also collaborate with the James Hutton Institute (UK) on data management and DArT P/L (Australia) on molecular characterization of genebank accessions through the establishment of an agricultural genetic-analysis service in Mexico ("Servicio de Análisis Genético para la Agricultura" in Spanish).
The SeeD initiative hopes that by comprehensively studying and classifying the genotypes of seed collections, important information on the global biodiversity of maize and wheat can be made available worldwide. Wenzl says they "want to build a Google for genetic resources".
Within this context, the 'phenotypic characterization' aims to discover how the plants withstand real field conditions. Evaluating plant performance for different traits and in different environments is crucial to understanding the information coded in plant genomes. It also enables further information to be gained regarding the genetic resources that affect the ability of plants to withstand climate change and resource scarcity.
This identification of novel genetic resources for plant breeding will not only benefit Mexico; "this particular project should be a project of Mexico to the world," says Wenzl. It is an ambitious goal but one that it is hoped can be achieved through collaborators sharing research methodologies and combining their efforts. INIFAP and CIMMYT used the working meeting to begin this process by identifying joint work modules to address the challenges for wheat improvement, such as increasing wheat tolerance to heat, drought, and diseases.