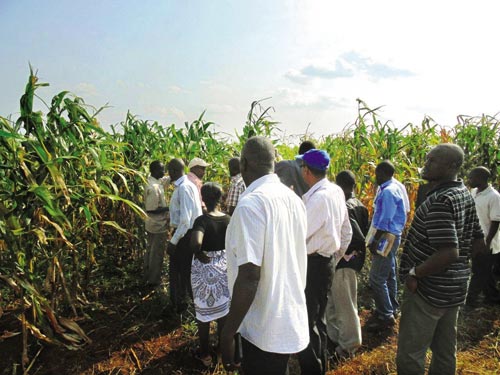 In recent years seed companies in Tanzania and Uganda have seen tremendous growth, resulting largely from the uptake of new drought tolerant maize varieties from both national and international organizations (see Table 1). This is accompanied by an increasing number of improved maize varieties taken up by the companies, growth in seed production, and general expansion of the companies' work volume, which results in need for more well-trained technical staff. Recognizing this, several companies in the region turned to CIMMYT with a request for a training course to equip seed technicians with skills to produce seed of various classes and to supply farmers with quality seeds. In response to the request, CIMMYT organized two training sessions: from 8-10 January 2013 in Tanzania and from 10-12 June 2013 in Uganda.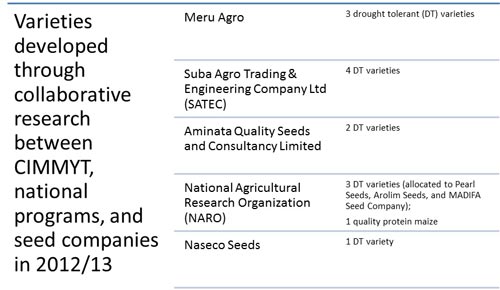 Delivered by James Gethi, Biswanath Das, and Mosisa Worku Regasa, together with Godfrey Asea in Uganda, the course covered all aspects of the seed value chain, including seed processing, quality control of seed production, customer service, contracting growers, maize varieties and their characteristics, seed storage, marketing strategies, and handling of unsold stock; it also touched on agronomy.
In Tanzania the course attracted 25 participants from 8 seed companies; in Uganda there were 39 attendees from 14 seed companies, the Uganda Seed Trade Association (USTA), and the National Crops Resources Research Institute (NaCRRI).
"Capacity building in local seed companies is important," said Bob Shuma, executive director of the Tanzania Seed Trade Association (TASTA), encouraging participants to seek opportunities to enhance their skills and knowledge of the seed business from CIMMYT and other partners. "Products and services of good quality are key in the process of building customers' trust, which contributes to the success of the company. This can only be achieved through training and adherence to laws and regulations set by the government," he added.
To determine the effectiveness of the course and delivery methods, participants were evaluated before and after the course. The pre- and post-course quizzes indicated an improvement of knowledge in both countries by over 34%. Those with top scores on the quiz were recognized for their outstanding performance, and all participants received a CD with resource materials and a copy of The Seed Business Management in Africa (MacRobert 2009).
Godfrey Asea, crop breeder and cereal research leader at NaCRRI, and Masagazi Cliff-Richard, USTA chairman and managing director of Pearl Seeds Ltd, who participated in the course in Uganda, thanked CIMMYT for organizing the training and urged everyone to use the newly-acquired knowledge to produce and supply quality seed to Ugandan farmers. "Uganda needs an improved seed industry," said Cliff-Richard emphasizing the value of the course.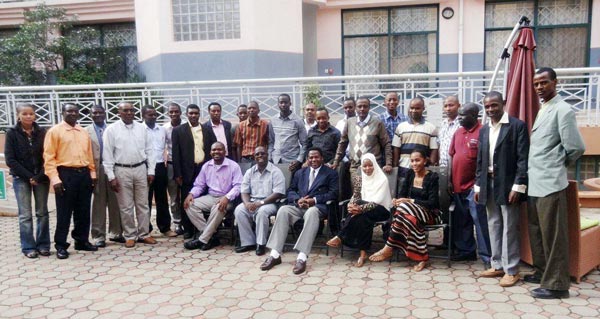 The CRP MAIZE will be hosting a side event on the role of maize in Africa at the Africa Agriculture Science Week (15-20 July) on 16 July in Accra, Ghana. Join us if you can and follow the AASW Blog and #AASW6 on Twitter.