The International Maize and Wheat Improvement Center (CIMMYT) hosted the first seminar of Catalysts of Change: Women Leaders in Science, on July 4, 2023. This exciting seminar series, which supports women's empowerment, features inspiring women leaders who share their expertise and perspectives on today's women leadership styles, extending insights into their own leadership journey, and shedding light on the extraordinary impact of women leadership transforming today's leadership through their critical roles as catalysts of change.
Moderated by Isabel Peña, this first seminar featured Yvonne Ochoa Rosellini, a distinguished business strategy and finance expert who has advised CEOs of public and private companies in Mexico, the U.S., Argentina, and Spain in a wide range of sectors ranging from finance to biotechnology and agriculture.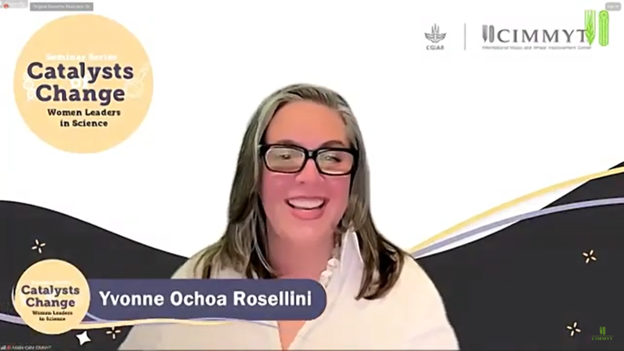 CIMMYT Director General Bram Govaerts delivered the opening remarks and set the stage for the interactive TED style seminar series—highlighting the importance of recognizing the benefits of gender, diversity, and inclusion to further economic, social, and political progress for all—catalyzing the power of women in leadership and decision-making roles as powerful catalysts of change. It is clear that still a lot of work needs to be done to address the problem for women in science organizations as recently described in a Nature Careers Opinion Piece. This seminar series sought to connect people of all genders to be inspired to make a difference through advancing culture change toward greater gender equity, finding common ground in overcoming challenges, lingering gender-based obstacles, and showcasing role models to foster and accelerate women leaders' transformation as catalysts of change.
Through TED talk style conference, Yvonne, an inspiring woman leader and a catalyst of change, who has attained various accolades throughout her outstanding career, shared engaging insights from her personal leadership journey and elaborated on the incredible experience as a catalyst of change in various industries. "To be the catalyst of change in our work and personal environments, responding eloquently to life instead of reacting to it. When we cease defining ourselves by what we do and live with ourselves as who we are, both at home and at work, we will live a personal singularity of sorts, only to become the leaders we wish to be. Because when we are true and upstanding to ourselves, others believe, care and ultimately will follow us," she said. Yvonne emphasized the importance of what it means to be a true catalyst of change and shared reflections and perspectives on driving impactful change in today's scientific community and mentoring people in organizations to be those critical catalysts.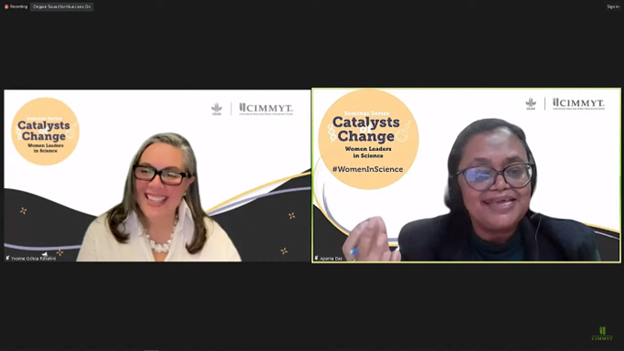 Next, Aparna Das, a prominent advocate for gender equality in the scientific community, interviewed Yvonne in a fire-side chat. The intensively engaging session discussed Yvonne's inspiring experiences of becoming a woman leader in science. Aparna and Yvonne explored the challenges, prejudices, and hurdles faced by women leaders, the expectations that society places upon them, and shared valuable insights into how women leaders today can successfully negotiate work-life challenges while pursuing their career goals.
Following Yvonne's thoughts, participants on the seminar actively participated in the Q&A session and asked questions about the role of leaders and organizations in providing support and opportunities to young women leaders when transitioning to the future. "Building a gender-balanced organization is really opening up to these conversations of career. Companies that have been most successful at getting women to participate are the companies that are thoughtful about not only policies to integrate women [into leadership and decision-making roles] but how we're supporting people at work and the needs for work-life balance," said Yvonne. She provided great insights on how these challenges could be overcome to advance women leaders––who continue to be vastly under-represented in decision making in all spheres: in the workplace, businesses, and communities––to positions of greater leadership.
The inspiring first session concluded with a power message from Yvonne addressing the importance of creating the space and time for reflection, learning to effectively advocate for personal goals and needs, and leveraging strengths to tap into the right resources. The time has come for women leaders to remain strategic, to empower themselves, to rise above the challenges and barriers to women leadership, and to push forward in building equitable and thriving work environments by embracing themselves as catalysts of change.
Wrapping up the seminar, CIMMYT Director General Bram Govaerts thanked Yvonne for sharing her inspiring leadership journey as well as her continued dedication to change. "As we learn by doing, as individuals, as teams, and as organizations, to do the right thing, this conversation really inspired us. With this we also kick off our Catalysts of Change seminar series with over 200 participants and this is just a start. We need to listen and lead by example to allow us to be catalysts of change to resolve tomorrow's problems today" he added. Thus, foregrounding strategic moves in the learning journey to empower organizations such as CIMMYT to support the work of changemakers like Yvonne and Aparna and the communities they impact.
To learn more about Catalysts of Change: Women Leaders in Science, click here to watch the seminar video on our YouTube channel or visit our website.