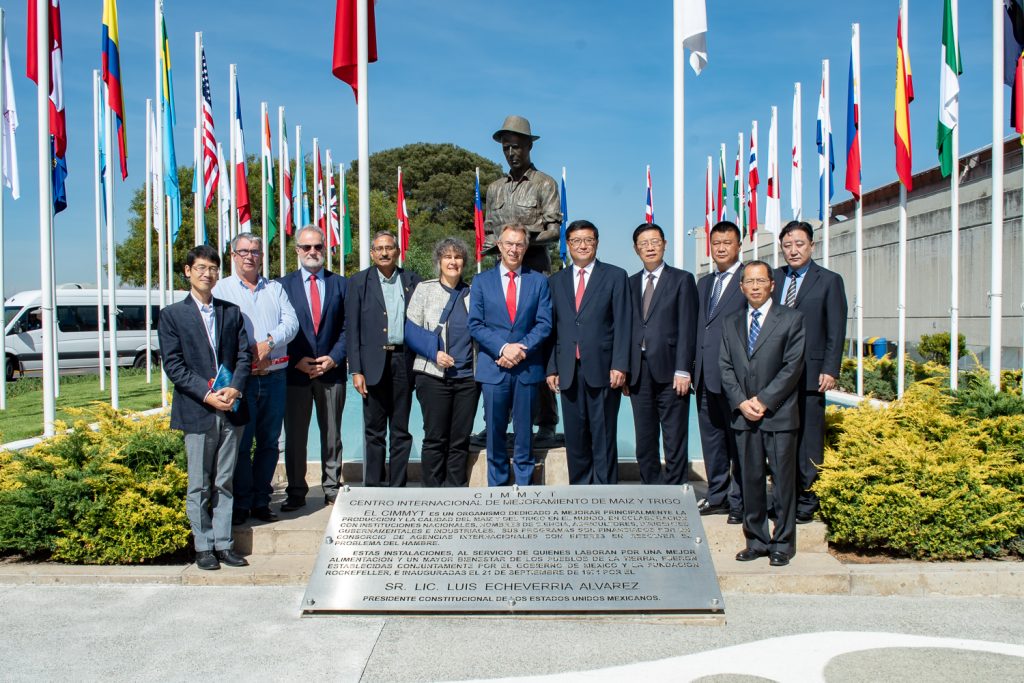 On October 23, 2018, the International Maize and Wheat Improvement Center (CIMMYT) welcomed a delegation of government officials from Sichuan Province, China, for the signing of a memorandum of understanding.
The Vice Governor of the Sichuan Province Government, Yao Sidan, led the delegation, which included representatives from the provincial government, the Sichuan Forestry Department, Chongzhou Municipal Government, and the Sichuan Academy of Agricultural Sciences (SAAS).
They met with CIMMYT's Deputy Director General, Marianne Bänziger; the Director of the Global Wheat Program, Hans Braun; the Director of the Sustainable Intensification Program, Bruno Gerard; and the Head of Bread Wheat Improvement and Rust Research, Ravi Singh.
CIMMYT representatives presented the center's current research agenda in China and discussed with Sichuan officials possible opportunities for strengthening collaboration.
Sichuan is the fourth most populated province in China, with a population of 91 million, over two-thirds of whom live in rural areas. The province is rich in natural resources and has a cultivated land area of 10 million hectares. Despite its rapid development over the past decades, 1.7 million of Sichuan's inhabitants still live in poverty and food security remains a key priority. In order to improve standards of living, it is important to ensure that Sichuan residents not only have enough food, but that they can harvest and consume high-quality crops.
Looking into the future of a long partnership
"CIMMYT's support and collaboration is very important for us," explained Yao. Collaboration between CIMMYT and the Sichuan Academy of Agricultural Sciences has contributed to a significant improvement in standards of living within the province over the last 30 years, but there is scope for deepening and widening the partnership in order to continue improving maize and wheat production in the region.
Maize and wheat research is particularly advanced at the Sichuan Academy of Agricultural Sciences. Many of its scientists are already working closely with CIMMYT researchers, but further collaboration is required to tackle ongoing wheat production and quality challenges.
"CIMMYT has enjoyed many years of collaboration with scientists in Chengdu," said Singh, "and though there has been successful development of wheat varieties using CIMMYT germplasm, production and quality is still being affected by challenges such as yellow rust and rising water levels of the Yellow and Yangtze rivers." However, he explained, CIMMYT can offer wheat materials for greater quality.
Gerard highlighted that as one of the world leaders in terms of conservation agriculture, China can play a key role in reducing global agriculture's environmental footprint. CIMMYT also stands to learn from China's expertise on agricultural technologies, he added, particularly with regard to precision agriculture, small-scale mechanization, and other tools that would prove useful to farmers in other regions of the world.
Another possible area for collaboration is researching the effects of radiation on yield loss and crop quality. There is evidence that wheat yields in other countries are significantly reduced by high levels of pollution, but the full effects of radiation on yield loss are still not very well understood, particularly in China. There is also scope to strengthen cooperation on seed industries, the use of specialty maize, diversification and aflatoxins.