By AbduRahman Beshir and Imtiaz Muhammad/CIMMYT
Dr. Imtiaz Muhammad, CIMMYT country representative for Pakistan, urged academics to encourage women to pursue agricultural careers during his keynote speech at a maize conference 3 May at the University of Agriculture Faisalabad-Pakistan.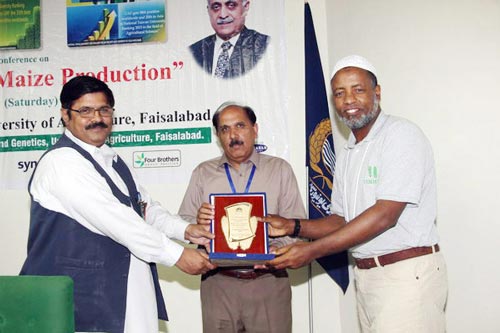 "Why are women not competing for jobs in the field of agriculture, despite the relatively good numbers of women in the university?" he asked. He mentioned a recent example from the CIMMYT-Pakistan office, which advertised local vacancies for maize, wheat and agronomy positions but was unable to find qualified women candidates with relevant experience. He emphasized the role of women in Pakistan's agricultural sector and said failing them is tantamount to failing half the country's population.
The conference, organized by the university's Department of Plant Breeding and Genetics, drew 150 participants from public and private maize research and development institutions, including multinational companies and academia, for an update on recent trends in maize production.
Dr. AbduRahman Beshir, a maize improvement and seed systems specialist at CIMMYT-Pakistan, spoke about CIMMYT's activities to enhance productivity and promote maize excellence in Pakistan. He encouraged public and private institutions to test and use CIMMYT maize germplasm in order to fast-track the deployment of improved maize varieties.
Participants expressed appreciation for CIMMYT's recent efforts to bring maize excellence back to Pakistan and enthusiasm for partnering with the organization. CIMMYT staff received an honor shield during the closing ceremony.