By Noor Muhammad and Imtiaz Muhammad/CIMMYT
CIMMYT-Pakistan, in collaboration with the Wheat Research Institute (WRI), Faisalabad, conducted a hands-on training workshop on the use of sensor-based technologies for physiological breeding at the Ayub Agriculture Research Institute, Faisalabad, and the National Agricultural Research Centre (NARC), Islamabad. Nearly 40 agronomists, breeders and physiologists representing 11 national research institutes participated in the training.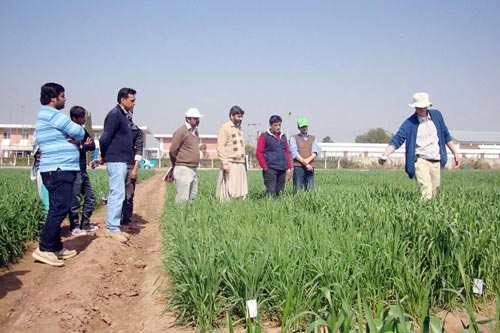 The workshop was planned to train professionals on the use of sensor-based equipments to improve physiological breeding efforts at Pakistan's national breeding programs. Sensor-based technologies are useful in understanding plant response to various climate clues. Alistair Pask, from CIMMYT's wheat physiology group, shared his knowledge of and experiences with wheat physiology and its implementation in plant breeding, especially under stress conditions. Lectures included information on wheat physiology, data recording, data handling and data interpretation in breeding approaches. Equipment including infrared thermometers for measuring canopy temperature, chlorophyll meters for measuring chlorophyll content and the GreenSeeker™ sensor used for normalized difference vegetation index (NDVI) measurements were demonstrated. CIMMYT also provided small pocket-sized GreenSeeker™ sensors to the WRI and the NARC Wheat Program.