By Brenna Goth/CIMMYT
A long-time colleague of CIMMYT received the inaugural 2013 World Agriculture Prize from the Global Confederation of Higher Education Associations for the Agricultural and Life Sciences (GCHERA), which recognizes contributions to the field by a university faculty member. Ronnie Coffman, international professor of plant breeding at Cornell University and director of the Durable Rust Resistance in Wheat project, was awarded the prize for his leadership in crop improvement, the prize committee said. He received the award on 20 October during GCHERA's annual meeting in China.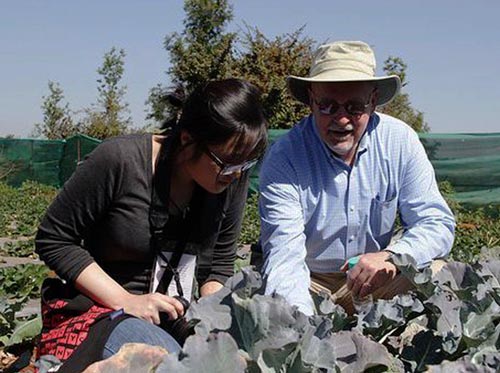 "The world's farmers need access to the best science that the many great institutions of GCHERA can deliver in order to produce crops that are nutritionally adequate and best-adapted to future challenges," Coffman said during his acceptance speech, according to GCHERA. Coffman spent a year as a visiting scientist with CIMMYT's wheat program in 1970 and has continually collaborated with the organization since then. Norman Borlaug, the late CIMMYT wheat scientist and Nobel Peace Laureate, supervised Coffman when he was a graduate student, and the two worked together to address the stem rust disease race Ug99 and other wheat diseases.
Coffman is vice chair of the Borlaug Global Rust Initiative, which was established to respond to wheat disease threats. He worked in the Philippines as a rice breeder for the International Rice Research Institute in the 1970s, where he developed new varieties, before joining the Cornell faculty in 1981. More recently, he has focused on fighting wheat diseases and mentoring students. Coffman has served on the board of various CGIAR centers, including the International Center for Agricultural Research in Dry Areas (ICARDA) and the International Crops Research Institute for the Semi-Arid Tropics. (ICRISAT) Coffman is also a confirmed speaker for the Borlaug Summit on Wheat for Food Security, a Borlaug 100 event that CIMMYT will host in March 2014. For more information about the event, visit www.borlaug100.org.