By Katie Lutz 
A CIMMYT-led project was named as a finalist for the 2014 mBillionth Award South Asia thanks to its mobile platform that helps farmers adapt to changing climate conditions.
"Dissemination of climate-smart agro-advisories to farmers in CCAFS benchmark sites of India" was launched in August 2013 under the leadership of Dr. Surabhi Mittal, a senior agricultural economist based in India, in cooperation with the CGIAR Research Program on Climate Change, Agriculture and Food Security (CCAFS). In the past 10 months, the project has helped 1,200 male and female farmers in eight Indian villages to gain more knowledge about climate-smart technology and adopt technologies to lessen their risks from climate fluctuations. The project also measured how receiving information on mobile telephones will affect farmers.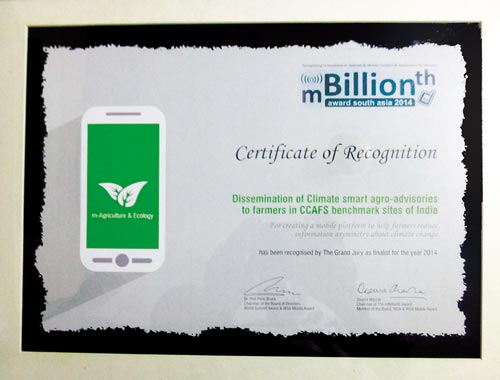 More than 300 entries were submitted for the award, which honors the most influential and leading practices in the mobile and telecommunications industry in South Asia. It was presented 18 July by the Digital Empowerment Foundation and Vodafone in a ceremony at the India Habitat Center. The CIMMYT project received acknowledgment for its impact on small farmers from Sanjeev Gupta, joint secretary of the Indian Ministry of Agriculture, and M.V. Ashok, chief general manager of the National Bank for Agriculture and Rural Development.
CIMMYT'S director general, Dr. Thomas A. Lumpkin, congratulated everyone involved with the project. "This shows your technological leadership," he said in a staff email announcing the award. "Use this to energize your activities."