By Mosisa Worku Regasa/CIMMYT
CIMMYT made strides in Kenya this month in training seed company teams who ensure that CIMMYT's improved germplasm reaches farmers. CIMMYT's seed systems team contributed to strengthening this partnership with the Kenya Seed Company (KSC) and Western Seed Company (WSC). At the companies' request, CIMMYT organized and facilitated a seed business management course for their staff.
Thirty-two participants from KSC and three participants from WS (including a total of seven women) participated in the course. CIMMYT Seed System specialists James Gethi, John MacRobert and Mosisa Worku Regasa delivered the seed training course in Kitale, western Kenya, during 21-23 January. The course covered identification of improved maize varieties, maintenance of parental lines, planning seed production, field management in seed production, basic issues in quality seed production, seed storage, warehouse management, promotion, marketing and sales strategies.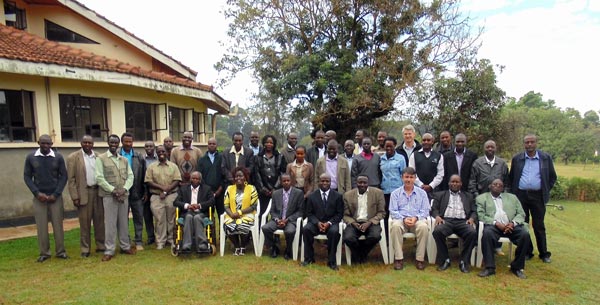 Each trainee was given a CD containing course material and a copy of Seed Business Management in Africa, written by John MacRobert, CIMMYT seed systems team leader. Francis Mwaura, KSC marketing director and Karsten Wichmann, a manager from WS, thanked CIMMYT for the course content, its practical application to the maize seed business and for helping to build the capacity of their staff. Both companies contributed to the cost of the training by sponsoring their staff members' participation. KSC Production Manager Hosea K. Sirma also thanked CIMMYT and urged participants to apply the knowledge they gained to deliver highquality seed to farmers.