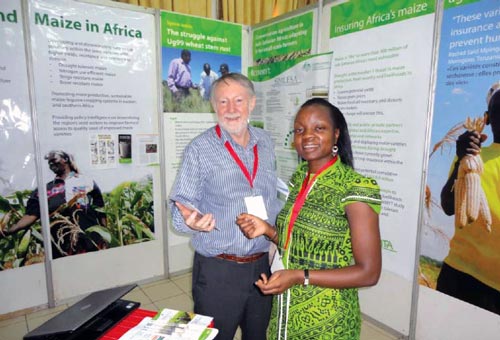 The Forum for Agricultural Research in Africa (FARA) held its 5thAfrican Agriculture Science Week from 19-23 July 2010 in Ouagadougou, Burkina Faso, a country in northwest Africa. More than 700 African farmers, ministers, scientists, policymakers, and public and private sector representatives utilized this opportunity to review the progress of agriculture research and development in Africa over the last three years, under the general theme of "African Agriculture in a Changing Global Environment." The participants, including three CIMMYT representatives, also established a regional research agenda for the next three years.
FARA is an umbrella organization for major agricultural stakeholders in Africa; it advocates and coordinates roles for agricultural research for development among national and international agricultural research centers and advanced research institutions. Despite hardships, like climate change and the global financial crisis, many influential African policymakers pledged to help increase investments in African agriculture. Several Ministers of African nations declared their commitment to the African Union's Comprehensive Africa Agriculture Development Program (CAADP). CAADP is an united approach to increase agricultural productivity in Africa through improvements in land and water management, market access, food supply, and agricultural research. Some of the program's goals include increasing agricultural productivity 6% each year, and allocating 10% of annual government budgets to the farming sector.
At FARA's Science Week, booth and poster display areas provided presenters with opportunities to interact and showcase their work. CIMMYT's booth provided information about various center initiatives, including those involving maize (with a focus on drought tolerant maize), conservation agriculture, Ug99, post-harvest losses, the African seed sector, and the project Sustainable Intensification of Maize-Legume Cropping Systems for Food Security in Eastern and Southern Africa (SIMLESA). The display included posters, publications, and a photo slideshow. Publications in French were especially popular, as it is the main language in Burkina Faso. CIMMYT also submitted a video on metal silo technology to the Inaugural African Film Festival, which was introduced as part of African Agriculture Science Week.
"The CIMMYT film on the metal silo did a great job in showcasing innovation and the benefits not only for farmers, but also for the associated small-scale metal fabrication industry," said Jacqueline Nnam, FARA knowledge sharing officer. You can watch parts of the video online: part 1 and part 2.
Representing CIMMYT at the event was Wilfred Mwangi, associate director of the Global Maize Program; Mulugetta Mekuria, project leader of SIMLESA; and Anne Wangalachi (pictured above right), science writer based at CIMMYTKenya, who reported that the CIMMYT booth attracted many visitors, including the Rwanda Minister of Agriculture, Agnes Kalibata, who was interested in drought tolerant maize and metal silo technology, and how these could be introduced and used in her country.
For more information about the event, visit http://faraweek2010.blogspot.com/.