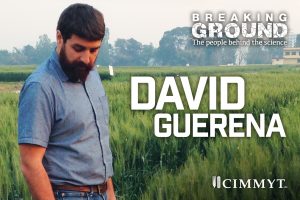 Breaking Ground is a regular series featuring staff at CIMMYT
EL BATAN, Mexico (CIMMYT) – David Guerena is fascinated by what he learns from smallholder farmers about the interactions between agriculture and the environment.
He recently joined the International Maize and Wheat Improvement Center (CIMMYT), where, as soil scientist-systems agronomist, he leads the soils/nutrient management activities for the Nepal Seed and Fertilizer Project, funded by the U.S. Agency for International Development's (USAID) Feed the Future Program.
Guerena's work involves the strategic planning and execution of multidisciplinary spatial agronomy programs across complex ecologies. In addition to strict biophysical work, which involves integrating chemistry, biology, and physics into agricultural systems, he also engages in socio-economic and market facilitation dynamics research.
"Humanity has been eking out a cultivated living from the earth for around 10,000 years," Guerena said. "Smallholder farmers are the direct link to this collective knowledge, which has shaped and defined human history. I really enjoy witnessing farmers reap satisfying harvests from their own efforts, but via outputs from agronomic systems research of which I have been a part."
"Agriculture is intensely satisfying. A seed, fertile soil, water and sunshine eventually turn into food. This is such a simple process, yet millions of people around the world don't get enough to eat. I draw inspiration from being a part of positively changing this dynamic."
Originally from Santa Barbara, California, Guerena has always been fascinated by the natural sciences and international travel. He decided to pursue a career in international agriculture by obtaining his Ph.D. from Cornell University, specializing in crop and soil science. Prior to joining CIMMYT, he worked as a soil scientist and agriculture innovations manager at One Acre Fund, served as an international research fellow with the World Agroforestry Center and a Borlaug Fellow in international food security.
CIMMYT provided a unique opportunity for Guerena to work on global food systems. "Together, maize and wheat make up a significant proportion of the global food supply – maize and wheat research is a globally important mandate," he said. "CIMMYT has also left an indelible mark on human history through facilitating the Green Revolution."
Currently, Guerena is working on spatial agronomy programs, focusing on questions such as how to move from blanketed to site-specific agronomic recommendations across complex agro-ecologies in the developing world. Guerena will also investigate how digital technologies like SMS, smartphones, image recognition, and remote sensing data can be used and integrated into agronomy programming for smallholder farmers living in poverty.
Precision agronomy, a farming management concept based on observing, measuring, and responding to inter- and intra-field variability in crops, is already transforming agricultural efficiency in the developed world, but these advancements have not yet reached the developing world.
This is of the utmost importance, as worldwide, the vast majority of farmers are smallholders producing most of the global food supply. CIMMYT is not only looking at ways to put its top-level science into the hands of farmers, but also at ways to use these technologies to turn farmers themselves into world-class agronomists. This approach may be a way to bypass cumbersome agricultural knowledge generation and dissemination systems and reach farmers directly, at scale.
The project receives support from the United States Agency for International Development (USAID).