In March, CIMMYT will celebrate the life and legacy of Dr. Norman E. Borlaug with the Borlaug Summit on Wheat for Food Security.  By uniting some of the brightest minds in agriculture and food security, we will commemorate the 100th anniversary of Borlaug's birth. The event will take place in Ciudad Obregón, Mexico, where some of his most important work began.
CIMMYT's Mike Listman takes a look at Borlaug's life and how he helped shape CIMMYT into what it is today: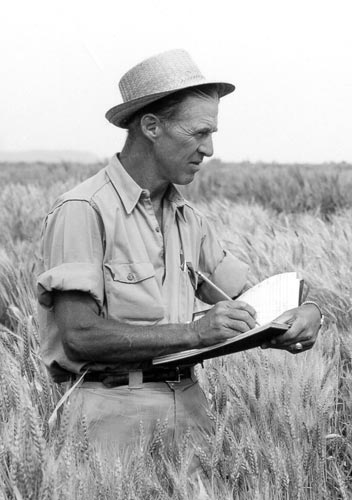 This year, the world will commemorate the extraordinary legacy of Dr. Norman E. Borlaug, the late agronomist, advocate for food security and Nobel Peace Laureate who died in 2009. During his long and distinguished career Borlaug worked with thousands of people around the world and numerous organizations; many will observe the 100th anniversary of Borlaug's birth on 25 March. CIMMYT will also celebrate the 70th anniversary of the beginning of Borlaug's work in Mexico for the organization that later became CIMMYT and which placed him on the path to the Nobel Peace Prize.
As part of a special Mexico-Rockefeller Foundation program in the 1940s-50s to raise Mexico's farm productivity, Borlaug led the development and spread of high-yielding, disease-resistant wheat varieties and better farming practices. During the 1960s-70s, those innovations brought Mexico wheat self-sufficiency and South Asia a productivity explosion and subsequently, freedom from famine. This in turn helped fuel the widespread adoption by developing world farmers of improved seed and farming practices in a movement called the Green Revolution.
Those successes and Borlaug's model – field-based, farmer-focused research, training of a global cadre of young agronomists and a pragmatic, apolitical approach – caught the imagination of the media and policymakers and led to the creation of a consortium of international agricultural research centers. Dr. Borlaug's ideals and fierce drive are strongly reflected at CIMMYT, the direct successor of the Mexico-Rockefeller Foundation program. Borlaug served as a principal scientist and research leader at CIMMYT from the center's launch in 1966 until his formal retirement in 1979, and from then on as a senior consultant in residence for several months each year until his death in 2009.
At CIMMYT, Borlaug helped craft a wheat breeding program unparalleled in global partnerships and impacts. Improved, CIMMYT-derived wheat is sown on more than 60 million hectares in developing countries – over 70 percent of the area planted with modern wheat varieties in those nations. These improved wheat varieties are responsible for bigger harvests that bring  added benefits to farmers of at least US$ 500 million annually.1 With the supply of that much more grain, for many years and in much of the world food prices fell and food security rose. For example, the price paid for wheat by consumers in India dropped by about 2 percent each year during 1970-95, benefiting both the rural and urban poor.2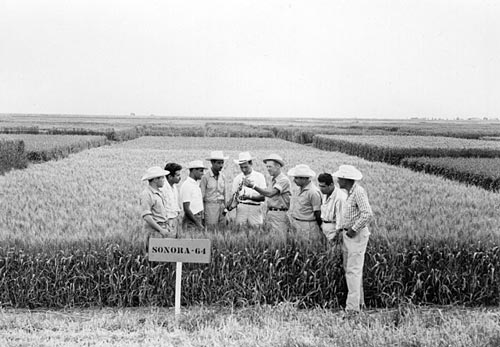 As stated in a 1999 Atlantic Monthly article: "Norman Borlaug has already saved more lives than any other person who ever lived…Borlaug is responsible for the fact that throughout the post-war era, except in Sub-Saharan Africa, global food production has expanded faster than the human population, averting the mass starvations that were widely predicted."3 Although a trained scientist, Borlaug was down-to-earth and preferred practical action to pure academia. He famously admonished understudies that "…you can't eat research papers." Despite this, his research at CIMMYT and its predecessor program featured both scientific rigor and real innovation. His big ideas include a worldwide wheat varietal testing and distribution network involving hundreds of partners, the practice of "shuttle breeding" – successive selection of breeding lines at two or three locations of separated latitudes that expedites breeding and broadens the breeding lines' adaptation, careful attention by breeders to disease resistance and milling and baking quality, close ties to farmer groups and valuing improved cropping systems on a par with high-yielding seed.
Borlaug also championed the development and promotion of quality protein maize, a product for which Eva Villegas (a CIMMYT researcher who had been a Borlaug protégé) and Surinder K. Vasal (a CIMMYT distinguished scientist) were awarded the World Food Prize in 2000. For Borlaug, the science was there to serve a higher humanitarian purpose, and this vision is the real legacy of his long career at CIMMYT. These words of Borlaug appear on a 2006 United States bronze medal minted in his honor: "The first essential component of social justice is adequate food for all mankind." Humanitarian science and fierce dedication were the core values that Borlaug bequeathed to the organization created in his image and which was his home for 43 years.
October 2014 also marks 70 years from when Borlaug first arrived in Mexico to join the Mexico-Rockefeller Foundation program. Borlaug was hard at work on a CIMMYT research station in Central Mexico in 1970 when his wife came to inform him that he would receive the Nobel Prize for the Green Revolution successes. His dedication was so complete that when she shouted the news to him across an irrigation canal he simply absorbed the information and then went back to work.
1.      This is in 2005 US$; see http://apps.cimmyt.org/english/docs/ impacts/impwheat_02.pdf; in addition to the benefits cited for increased yield per se, a 2006 study estimated the annual benefits to farmers from improved yield stability through use of CIMMYT-derived wheat varieties at more than $140 million.
2.      http://journals.cambridge.org/download.php?file=%2FAGS%2FAGS144_06%2FS0021859606006459a.pdf&code=19f5c00a27f8982c83c2e95bce65491e
3.     Easterbrooke, G. 1999. "Forgotten benefactor of humanity." Atlantic Monthly, January.