By Brenna Goth/CIMMYT
CIMMYT's wheat physiology unit has grown from a small team led by one scientist in Mexico to a group that now includes specialists in crop modeling, crop physiology, molecular genetics and remote sensing. Matthew Reynolds, who leads the team, has seen a significant increase in the application of plant physiology since coming to CIMMYT nearly 25 years ago. "When I first started," he said, "we worked to convince skeptical plant breeders that physiology could be useful to them." Today, the team is widely recognized for its contributions and has produced germplasm that is being used by national agricultural research systems.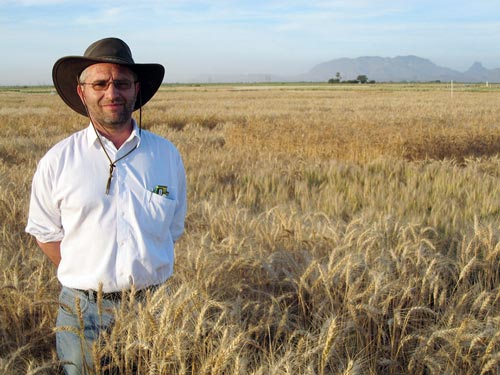 Last month, Reynolds became a 2013 fellow for the Crop Science Society of America, which is the highest recognition given by the organization. He was also invited to speak at a Bayer's 150th anniversary science symposium, which featured a wide range of disciplines from medicine to crop research.
A United Kingdom native, Reynolds comes from a botany and crop physiology background. He first came to CIMMYT after earning a Ph.D. at Cornell University in New York. Though he had more experience working with potatoes than wheat, Reynolds said he was enticed by the opportunity that CIMMYT provided to work on "the real and tangible problem of food security." He sees wheat as an exciting crop to work on not only for its importance worldwide as a food source, but also because it is so widely adapted. "It is the best suited of any major staple food crop to drier conditions," Reynolds said. "That makes it an important pillar for food security as we face the uncertainties of climate change."
Reynolds splits his time between CIMMYT's headquarters in El Batán, Mexico, in the Central Mexican Highlands, and Ciudad Obregón, Sonora state. In Ciudad Obregón, an irrigated desert research station in northern Mexico, Reynolds and his team conduct most of their research and advise visiting scientists and Ph.D. students. He also travels frequently to interact with partners worldwide. Collaboration and sharing knowledge are crucial to his work. Field guides and manuals on physiological breeding edited by Reynolds and colleagues have been translated into Chinese, Russian and Spanish. Reynolds also compiled and edited the book Climate Change and Crop Production.
Another recent endeavor has been to establish the Wheat Yield Network, which unites institutions worldwide working on raising the yield potential of wheat. The work is demanding and the problems aren't getting any less, Reynolds said. But he sees the job as not only intellectually stimulating but a privilege.
"It's extremely satisfying," he said, "to help solve real-life problems for people who really need it, through a combination of science, training, and global collaboration."