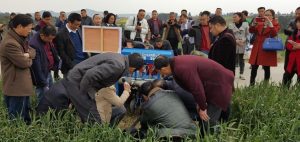 CHENGDU, CHINA – The International Maize and Wheat Improvement Center (CIMMYT), in collaboration with the Sichuan Academy of Agricultural Science (SAAS) is expanding conservation agriculture (CA) practices to promote sustainable intensification (SI) (i.e., agriculture aimed at enhancing the productivity of labor, land and capital) in China's Sichuan Province.
Sustainable intensification can simultaneously address a number of pressing development objectives, including adapting production systems to climate change, sustainably managing land, soil, nutrient and water resources, improving food and nutrition security and ultimately reducing rural poverty. Zero tillage (ZT) minimizes soil disturbance, provides continual residue soil cover and includes crop rotations, all of which increases soil fertility and water use efficiency and helps cereal farmers sustain their crop yields over the long term.
As part of a joint CA project with CIMMYT, Tang Yonglu, Dean of the Crop Research Institute, SAAS, and his team have promoted sustainable mechanization and residue management, incorporated farmer input and hosted demonstrations in the rainfed regions of Sichuan. As a result, farmers from Mianyang District in Sichuan are now interested in ZT; a plan was thus put in place to build capacity and help farmers plant ZT maize and rice in May and June 2016.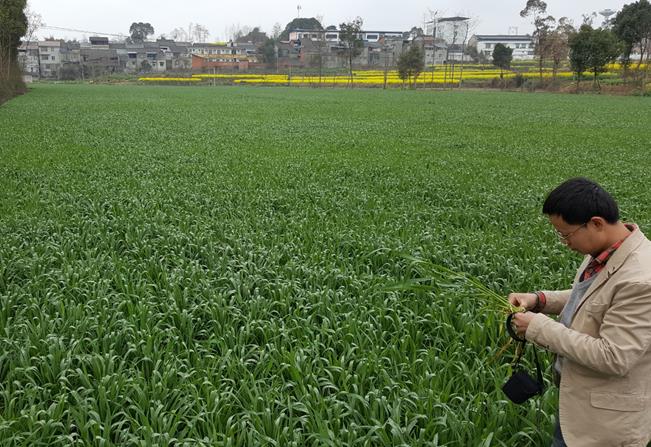 At an annual SAAS-CIMMYT meeting, Tang's team presented their findings on the effect soil compaction and waterlogging have on wheat production. Soil compaction occurs when random wheeling over cropping areas of farm vehicles, such as tractors and harvesters, packs the soil so tightly that soil conditions deteriorate, reducing crop yields. Waterlogging caused by flooding or intense rain on degraded soils also negatively affects yields.
At the meeting, CIMMYT proposed managing soil compaction through controlled traffic farming (CTF), an essential ZT practice that alleviates soil degradation. CTF permanently separates the crop area and the traffic lanes, thereby avoiding vehicle-induced soil compaction and improving and sustaining soil health. SAAS plans on implementing CTF as one tool in its sustainable intensification efforts.
During the two-day event, local researchers presented their academic and work reports and attended a field demonstration on advances in ZT mechanization; technical training sessions for farmers were also held. Other researchers addressed subjects such as soil health, weed control, sustainable techniques for rainfed wheat and mechanization techniques for rainfed maize.
Field demonstrations compared the performance of crops sown using locally produced one-pass planting machines and the Chinese made Turbo Happy Seeder. It was the first time participating researchers and farmers had seen a demonstration of the Happy Seeder. The Chinese seeder minimizes soil disturbance and uses devices that block residue, which makes it very useful for planting irrigated and rainfed crops when high levels of residue are maintained in the fields. For the locally produced machines to operate successfully, they require low levels of residue on the soil surface or that residues be incorporated into the soil.
Differences in planting machinery performance were difficult to discern in the wheat fields, due to yield losses across the region as a result of a very cold period in January. What was apparent was that while all the machines were equally effective in terms of crop establishment, there appeared to be slight differences in water stress in crops sown by the rotary till planter (high soil disturbance) and the non-rotary planter (low soil disturbance). This improvement in crop soil water was not lost on the participants as they strolled through the fields while listening to Li Chaosu, senior researcher at the Crop Research Institute, SAAS, explain the results.
CIMMYT SAAS collaboration is set to expand in the mountainous regions of Sichuan Province later this year, when new farmers come on board to implement ZT rice transplanting. The Green Farming Association, in collaboration with the local Agricultural Mechanization Bureau based in Santai, is also forging ahead with its conservation agriculture plans with CIMMYT's guidance and support.