PLC6 is a term used to refer to an advanced stage of hybrid testing at Syngenta, a partner of the Affordable, Accessible, Asian (AAA) Drought Tolerant Maize Project. Four hybrids, representing combinations of Syngenta and CIMMYT germplasm are currently at PLC6 in big plots at multiple locations.  The trajectory of this process points to pilot marketing of a limited quantity of hybrid seed in 2016 and a full market launch in 2017.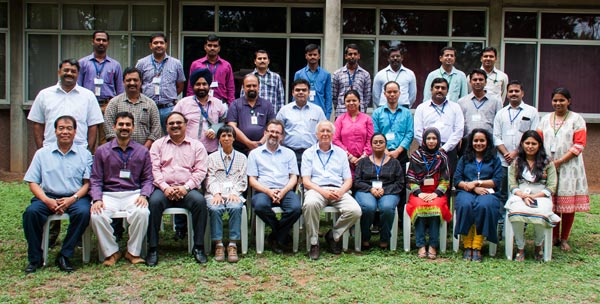 Four million hectares in India and Indonesia is the potential target area of this project.  This translates to a market potential of about 80,000 metric tons of seed and offers the opportunity to address the needs of over five million households.  In Indonesia, this primarily covers the island of Sulawesi and eastern Java province. In India, the targeted west central zone includes drought prone and tribal areas, a high risk environment where farmers require improved low-cost seed.
According to Syngenta, the region's climate and other dynamics make seed marketing risky, unpredictable and unattractive, and is often overlooked by the private seed sector – exactly the kind of underserved area CIMMYT is mandated to target.
The AAA annual meeting was held at the International Crops Research Institute for the Semi-Arid Tropics (ICRISAT) campus in Hyderabad, India on 22 and 23 July 2015.  Members of the AAA team highlighted achievements over the past five years that ranged from identifying hybrid combinations, fast tracking them to deployment, developing new inbred lines, identifying molecular marker leads for grain yield under drought and for root traits, generating information on genomic selection and genome wide associations and building human, infrastructural, informatics and networking capacity.  All this was done through an exploratory partnership model that included NARS partners (from Vietnam and Indonesia) in addition to Syngenta.
CIMMYT and the AAA team would like to thank the Syngenta Foundation for Sustainable Agriculture (SFSA), especially Mike Robinson, Chief Science Advisor and the mastermind behind this approach, for the support provided and for enabling such a collaborative opportunity.