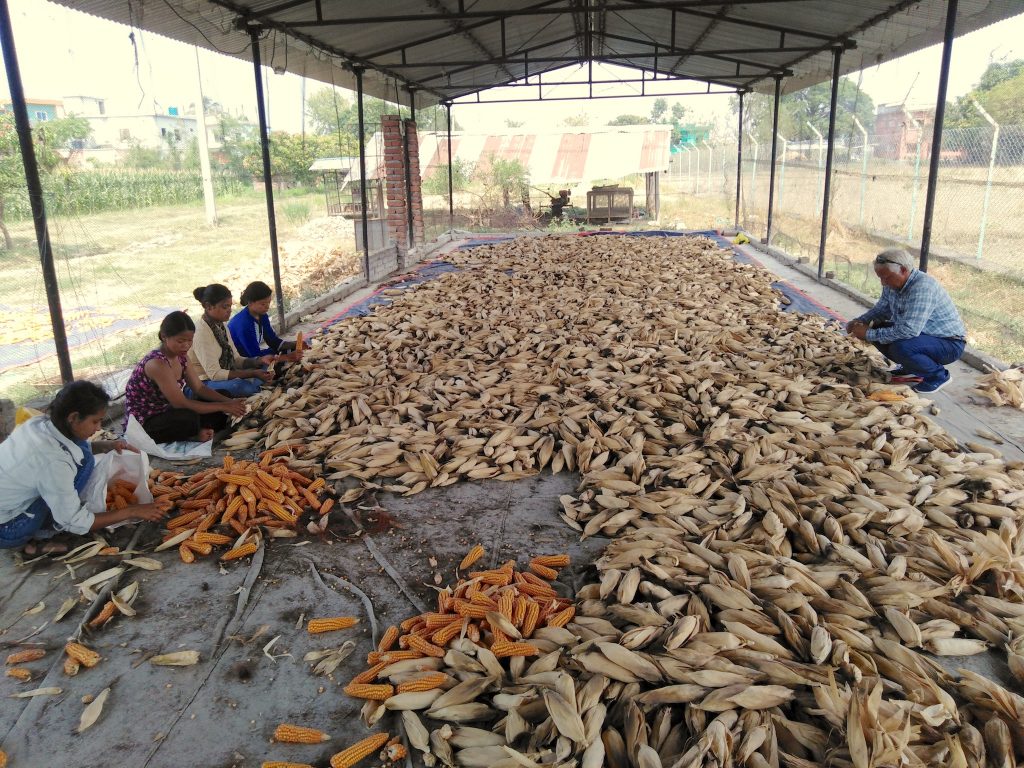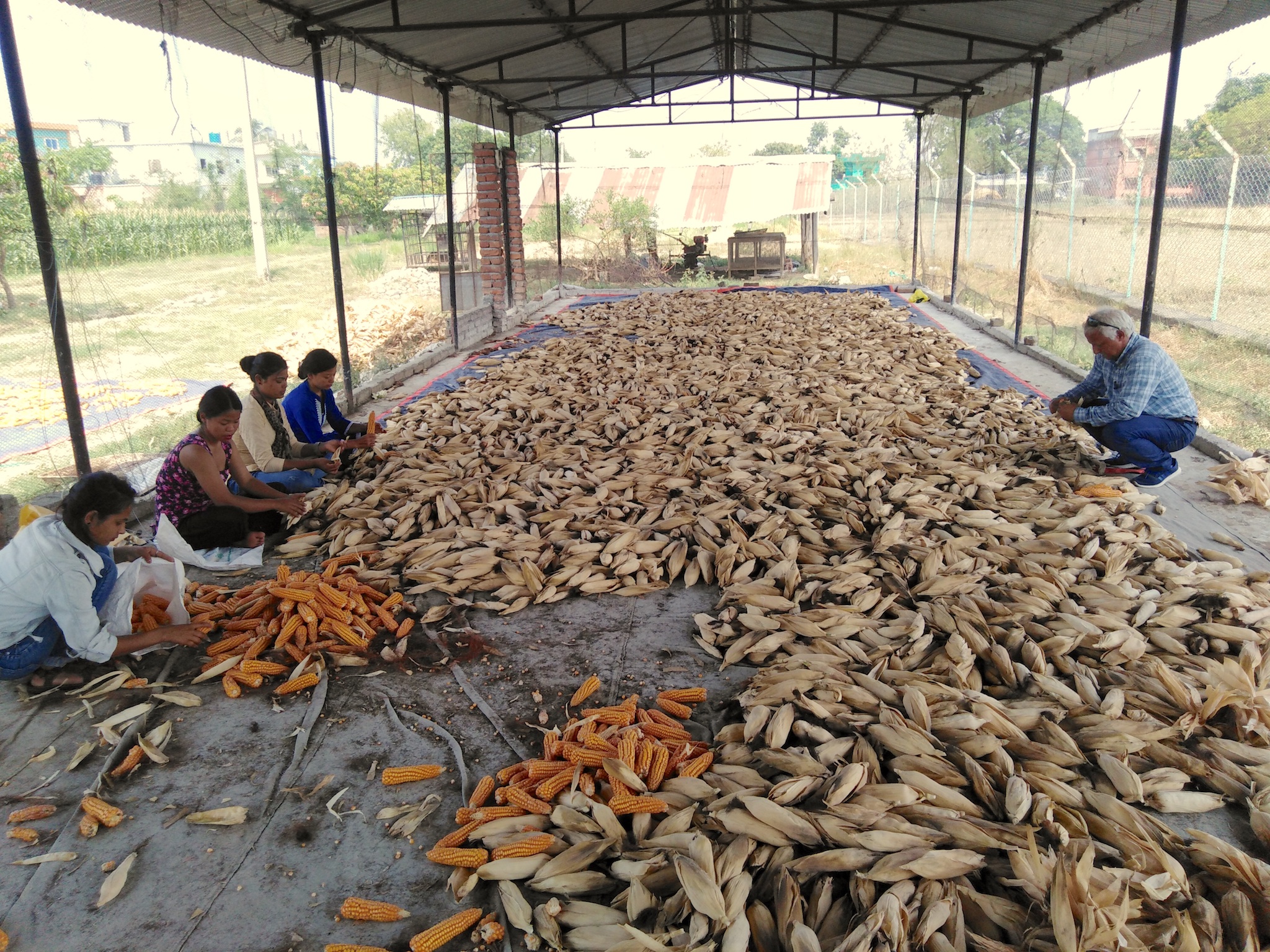 In an historical first, during the 2018-19 season Nepal's National Maize Research Program (NMRP) coordinated the production of 4 tons of seed of a leading maize hybrid, as part of national efforts to boost maize production and meet rising demand for the crop.
NMRP oversaw production of Rampur Hybrid-10 seed, in collaboration with the Heat Tolerant Maize for Asia (HTMA) project funded by the USAID Feed the Future Initiative and led by the International Maize and Wheat Improvement Center (CIMMYT), the Nepal Seed and Fertilizer (NSAF) project, and local seed companies and farmer cooperatives.
"Producing hybrid maize seed and getting quality seed to farmers at a reasonable price involves multiple stakeholders," said P.H. Zaidi, CIMMYT maize physiologist and HTMA leader. "NMRP is pursuing a public-private partnership model to have key value chain components in place for this. The success this year may encourage other companies to switch from producing seed of open-pollinated maize varieties to that of hybrids, which are higher yielding."
Lumbini Seed Company alone harvested 2.5 tons of hybrid seed from one hectare of land, helping to debunk the common myth that production of maize hybrid seed was impossible in Nepal, according to Zaidi.
"Lumbini did good groundwork to identify a suitable season and site for seed production, helping them to achieve a good hybrid seed harvest in their first-ever attempt," said Zaidi. "The NMRP and other seed companies contributed valuable knowledge and advice to improve and scale up hybrid maize seed production."
Maize is a critical food, feed and fodder crop in Nepal, providing nearly 20% of people's food energy and accounting for around 33% of all cereal production in the high hills regions, 39% in the mid-hills region, and 9% in the Terai. Over two-thirds of hill-region maize is eaten directly as food on farm homesteads, whereas 80% of maize in the Terai and neighboring regions is used as feed.
Demand for feed maize is skyrocketing, as consumers switch from starch-based foods to animal protein and dairy products. Current national maize production satisfies less than a third of feed industry demand, requiring maize grain imports that reached 4.8 million tons in 2017-18.
Against this backdrop, many smallholder farmers still grow local or open-pollinated maize varieties, which are usually low yielding.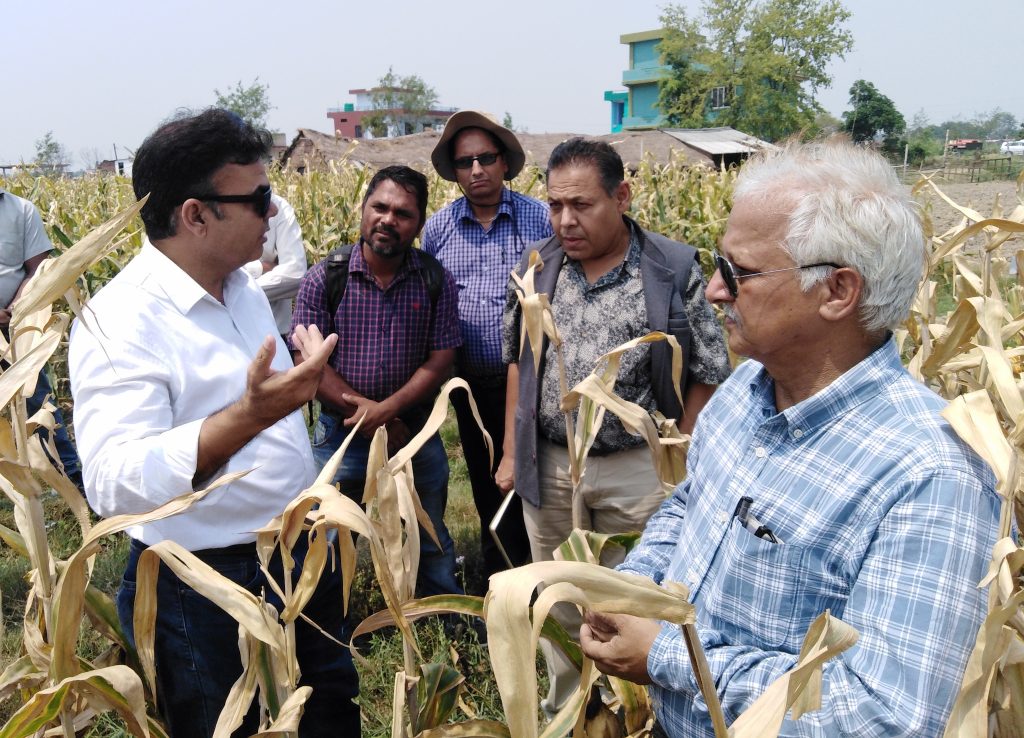 Based in Rampur, Chitwan, and established in 1972, the NMRP has developed and released 29 open-pollinated and 5 hybrid maize varieties, including Rampur Hybrid-10, with technical support from CIMMYT. Multinational companies have registered 54 other maize hybrids for marketing in Nepal. To date, nearly all hybrid seed is imported.
Other partners in efforts to produce hybrid seed in Nepal include the farmer cooperatives Namuna Sahakari and Jhapa, as well as the companies SEAN Seed in Kathmandu and Unique Seed Company in Dhangadi. NMRP is also developing and registering new high-yielding hybrids. Some nucleus and breeders seed is being produced by the Agricultural Research Station (ARS) and Regional Agricultural Research Station (RARS) of the Nepal Agricultural Research Council (NARC).
The NMRP and participating seed companies expect to meet half of Nepal's hybrid maize seed requirements through such domestic seed production within five years, with the objective to achieve complete seed self-sufficiency later on.