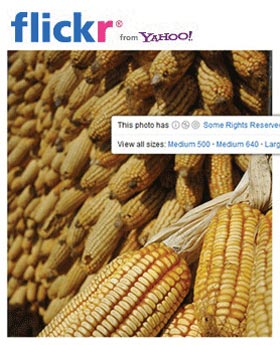 Many of us were celebrating love and friendship on 14 February 2012, and CIMMYT's online image collection was no exception. Users around the world showed us how much they love CIMMYT's photos, with the flickr site receiving its 200,000th view since the collection began. If you haven't yet seen our fantastic photos, join in at: www.flickr.com/cimmyt.
As well as making our photos easier to find and use within CIMMYT, many other organizations are also picking up on our images and using them on their own websites and blogs, spreading recognition of CIMMYT. Some recent examples from 2012 alone include use on the popular blogging site African Seed Network, PreventionWeb (1, 2), which supplies information for the disaster risk reduction community, the Radio Netherlands Worldwide website, and the CCAFS page/blog.
In addition, the CIMMYT twitter feed now has over 2000 followers, illustrating how CIMMYT's message can also be spread via long texts, photos, or 140 characters!