Bangladesh is one of the most climate-vulnerable countries in the world. The climate risks are negatively impacting the country's agricultural sector, which constitutes nearly 12% of the country's GDP. Additionally, 40% of the country's workforce rely on agriculture for a major portion of their income (BBS, 2021-22).
Despite these challenges, Bangladesh has demonstrated remarkable economic growth by strategically investing in climate resilience and disaster preparedness over the years. The country has gained global recognition as a leader in these areas, driving its overall development. However, escalating climate risks continue to pose threats to Bangladesh's progress, particularly impacting the most vulnerable segments of society and jeopardizing the nation's growth trajectory.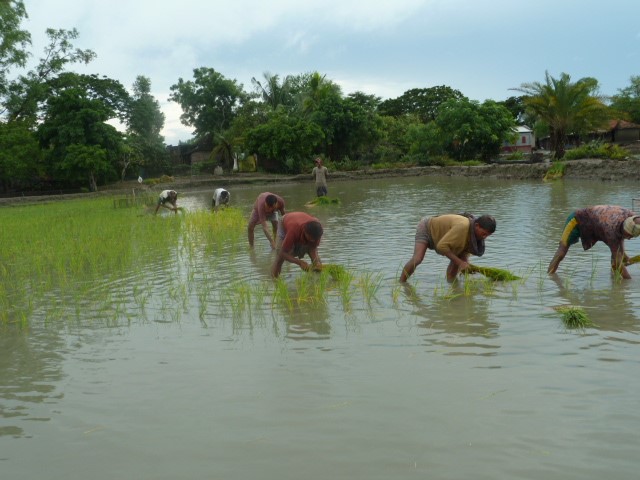 In response to these challenges, Bangladesh has made concerted efforts to develop climate adaptation strategies. A significant milestone was the launch of the GCA Global Hub on locally led adaptation by the Honorable Prime Minister Sheikh Hasina in 2022. This groundbreaking initiative aims to support one million climate-vulnerable migrants in Bangladesh. The government has also formulated policies, plans and programs to combat the impacts of climate change. The Bangladesh Climate Change Strategy and Action Plan (BCCSAP), formulated in 2009 and updated in 2022, focuses on six thematic areas, with five and six emphasizing adaptation and mitigation, respectively. Another important initiative is the Bangladesh Delta Plan 2100, prepared in 2017, which categorizes the entire country into six hotspots. To safeguard the agricultural sector from climate change, Bangladesh has also developed vulnerability Atlases such as the 'Bangladesh Climate and Disaster Risk Atlas: Volume 1 & 2' and the 'Climate Adaptation Services Bangladesh (Haor region).'
While significant progress has been made in risk mapping, there is room for improvement. For instance, the current Atlases operate at the district level, and there is immense potential to downscale them to the upazila (sub-district) level to achieve enhanced granularity. Additionally, transforming the Atlases from report format to a more interactive and user-friendly online one would be beneficial.
The Atlas of Climate Adaptation in South Asian Agriculture (ACASA) project aligns with the goals of BCCSAP, focusing on location-specific climate change adaptation and mitigation strategies in agricultural production. The Atlas will play a crucial role in quantifying localized climatic risks, assessing their impacts on agriculture today and in the future, and identifying key adaptation options to mitigate these risks. This knowledge will strengthen Bangladesh's food security and reduce its vulnerability to climatic risks.
The Bangladesh Agricultural Research Council (BARC) will actively utilize the Atlas, leveraging agro-geospatial data to expedite decision-making processes. BARC will further leverage its expertise in geospatial tools, crop zoning information systems, GIS-based mobile apps, climate information databases and drought monitoring systems, further combined with the knowledge base of Atlas to ensure informed and evidence-based actions. Moreover, collaborating with ACASA to develop an advanced and interactive online Atlas expands the country's scope and fosters stakeholder participation, enabling informed decision-making and refined risk characterization at a granular level.
Piece by Shaikh Mohammad Bokhtiar, Executive Chairman, Bangladesh Agricultural Research Council (BARC), Bangladesh