Several CIMMYT wheat scientists are packing their bags for St. Petersburg, Russia, where over 600 participants will gather for the 8th International Wheat Conference, running from 29 May to 04 June, and for the Borlaug Global Rust Initiative Technical Workshop on 30-31 May. Among them will be Nayelli Hernández Espinosa, a young Mexican research assistant with the GWP's Wheat Quality Lab who joined CIMMYT in 2006.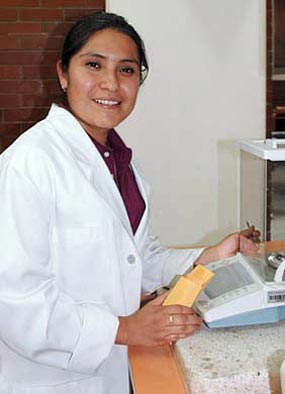 Hernández previously studied agro-industry engineering at the University of Chapingo, Mexico, and she now uses her skills to foil the wheat stem rust Ug99. She has been analyzing biochemical, chemical, and rheological characteristics of specific CIMMYT wheat lines (previously believed to be of little use) to determine which ones have both Ug99 resistance and the quality types that correlate with wheat uses in South Asia. Selected lines will be sent to Asia, where they will be evaluated for yield potential and regional adoption. This work impressed the Monsanto Fund, which is funding Hernández´s trip to St. Petersburg to present her studies and findings.
Combining Ug99 resistance with the resistance with the diverse traits that affect yield and quality is interesting work, Hernández said, but added that it has been, and continues to be, a team effort. She thanks her colleagues in the Wheat Quality Lab for their assistance, and Roberto Javier Peña, wheat quality expert and laboratory head, for his guidance.