Here in Addis Ababa, excitement is building as more than 200 participants arrive and register for the conference on Wheat for Food Security in Africa, organized by CIMMYT, the International Center for Agricultural Research in Dry Areas (ICARDA), and the Ethiopian Institute of Agricultural Research (EIAR).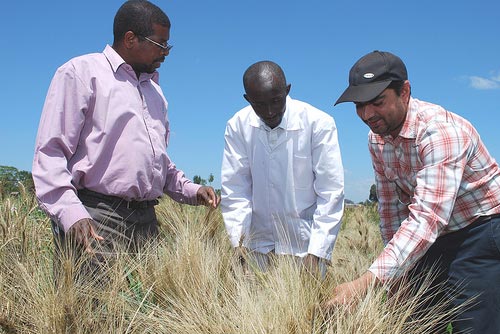 Tomorrow the Director Generals of the three organizations will welcome the diverse array of participants – researchers, policymakers, Ministers, journalists, and more – before the Ethiopian Minister of Agriculture and Rural Development, H.E. Ato Teferra Derbew, takes to the stage for the official opening address. We will also have the pleasure of welcome remarks from the African Union representative, H.E. Mrs. Tumusiime Rhoda Peace. Then, it will be down to business in the form of keynote speeches and updates on the states of wheat production in North, East, South, and West Africa.
Some of the participants will have an early start tomorrow, as they must get to the conference center to hang their posters. Over 100 African researchers are being sponsored by the conference; they will all have to display a poster or give a presentation, and all participants will receive a book of the abstracts from the sponsored researchers.Now that the rainy season appears to have come to an end, participants will be able to experience Ethiopia at its most green and beautiful when they take a trip to either Debra Zeit or Kulumsa Research Station on day 3. Days four and five will be more policy oriented and discussion based. If you can't be at the conference itself, we'll keep you up to date on everything as it happens.
To stay connected, whether you are at the conference or not, follow us on twitter using the #W4A hashtag. There will also be regular updates on the WHEAT Facebook page. And of course, daily summaries on this blog. But why wait until the end of the day? Get involved on Facebook, give us your feedback on twitter, and discuss with your friends, colleagues, and family how we can improve the future of wheat research and production in Africa.