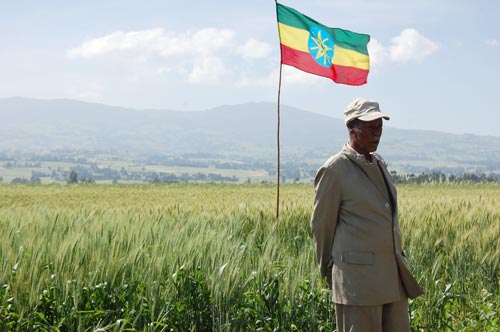 After two days in UNECA, a trip to farmers' fields, seed production sites, and wheat research platforms provided participants with some welcome fresh air and the chance to see the reality of wheat production in Ethiopia. The majority of participants went to observe and ask questions at bread wheat sites in Kulumsa, about 160 km south-west of Addis Ababa, while one busload went to see the durum wheat fields at Debre Zeit.
I went with the Kulumsa group, and our first stop was with farmer Negash Dino. He is currently working with the Ethiopian Institute of Agriculture at Kulumsa, to grow two new, high-yielding bread wheat varieties (Kakaba and Atila). Dino plans to sell the seed he produces to his neighbors in order to help replace the old, poorly-performing varieties with these new lines. This year, Dino estimates that he will harvest 2 t of grain from 1.25 ha. These high yields are partly down to Dino's improved agronomic pratices; working with the Kulumsa station has taught him the importance of good crop management, and Dino now plants his rainfed crop in rows and uses herbicide to control grass weeds, which are a big problem for the area.
Our next stop was at the Gonde Iteya Basic Seed Farm of the Ethiopian Seed Enterprise (ESE). Here they multiply seed for an incredible 27 crops, with a total of 79 varieties. They grow 13 varieties of bread wheat with the objective that farmers in the area have a constant and ready supply of quality, affordable seed. In addition, ESE is actively working to promote public-private partnerships and also provides training, consultancy, and technical advice in seed production, processing, and marketing. Currently, of the 4.7 million households farming in Ethiopia, just 600,000 use certified seed. Organizations such as ESE are hoping to increase this figure and therefore ensure dissemination of high-yielding varieties to more farmers in the country.
Finally, we visited the Kulumsa research station itself. Here we were welcomed by the Center Director, Solomon, who was delighted to show off his work to such a large group. We visited the Kulumsa wheat seed multiplication scheme, the international nurseries and irrigation ponds, and had presentations on breeding, pathology, and crop management. The interest of the participants was obvious from their large number of questions and attentiveness to all the presenters. They concluded that despite an early start, the trip had been well worth it.
After a long day in the heat of the Ethiopian sun, participants were rewarded with a traditional Ethiopian coffee ceremony, a beautiful event showcasing the hospitable nature of our hosts here. Tomorrow things will hot up at UNECA as we welcome ministers, ambassadors, donors, and the delegates from earlier in the week to address the policy issues currently constraining wheat production in Africa.