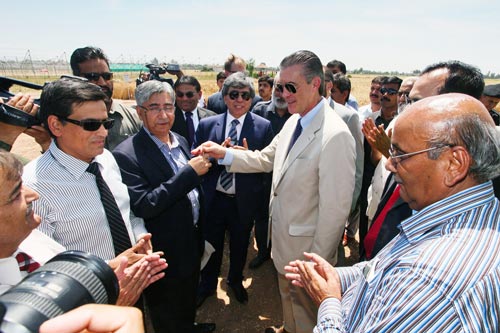 On 8 May 2013, US ambassador Richard Olson reaffirmed the United States government's long-term support to farming communities in Pakistan during his visit to the National Agricultural Research Center (NARC) in Islamabad. The visit, organized by CIMMYT in collaboration with US embassy in Pakistan and Pakistan Agricultural research Council (PARC)/NARC, was to recognize the success of the Wheat Productivity Enhancement Project (WPEP), a USDA program implemented by CIMMYT in collaboration with national and provincial research partners, and to inaugurate the harvesting ceremony for the Ug99 resistant wheat variety called NARC 2011. "Since the 1950s, the United States has been working to support agriculture in Pakistan," stated Olson. "Wheat accounts for approximately 60% of the daily caloric intake of the average Pakistani, so our joint efforts to combat this disease are critical."
Muhammad Imtiaz, CIMMYT country liaison officer and wheat breeder, briefed the ambassador on CIMMYT's mission to sustainably increase productivity of wheat and maize systems to ensure global food security and reduce poverty. "CIMMYT collaboration on sustainable agricultural research with national and provincial research institutes in Pakistan began when Dr. Manzoor Bajwa and Dr. Norman Borlaug worked together to develop 'Mexi-Pak,' the wheat variety that started the Green Revolution in Pakistan and helped to double Pakistan's wheat production between 1965 and 1970," Imtiaz commented on the long-lasting importance of the partnership for Pakistani farmers. The work is not over as the need for disease resistant wheat varieties continues: experts estimate that Pakistan's annual wheat harvest could be reduced by as much as 50% if and when Ug99 arrives. "Agriculture contributes 21% to the GDP of Pakistan and employs 45% of the labor force, making it one of the most significant economic drivers of Pakistan," Imtiaz explained the importance of the sector. Pakistani farmers grew about 24 million tons of wheat on 8 million hectares last year, accounting for about 2.4% of the GDP.
Abdul Basit Khan, Additional Secretary at the Ministry of National Food Security and Research, and Iftikar Ahmed, PARC Chairman, appreciated CIMMYT's effective role in wheat improvement through technical support and implementation of international funded projects, and reiterated its importance for enhancement of the research efficiency and capacity of Handing over of Wintersteiger key to Chairman PARC Pakistani national institutes.