April, 2004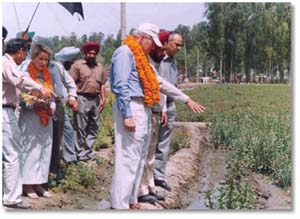 Visiting family farms in Punjab this month, US Ambassador to India Dr. David C. Mulford learned how conservation agriculture benefits farmers and the local economy.
For four years, farmer Tara Singh and his family have experimented with zero tillage and bed planting, two techniques promoted by the Rice-Wheat Consortium for the Indo-Gangetic Plains. After meeting with Singh and other farmers, Ambassador Mulford said he was "impressed" to see that the techniques "work in fields and farmers are using them to their advantage." The techniques have potential to conserve water, improve the quality of the soil, reduce the use of fuel in farming, and improve weed control.
Singh and his family run an intensive and complex farming operation that highlights the pressures and opportunities that are transforming agriculture in this region. Water, especially for agriculture, will become increasingly scarce. Demanding new markets for horticultural crops are emerging. Farmers cannot predict how increasing competition and changing export markets might affect their production of rice and wheat, which are India's traditional staples but also potentially valuable exports.
On half of the farm, Singh grows rice and wheat in rotation. Wheat covers the ground from November to May, and then rice is planted. On the other half of his land, he has diversified production considerably. After growing rice in the monsoon season, he produces lettuce, broccoli, mustard, and tomato in winter. In spring, Singh's fields are planted to leeks, bitter gourd, cucurbits, tomatoes, radishes, onions; and mint. Most of these crops are grown in combinations or as relays. Some are grown on raised beds to leave the soil undistributed and to make weed and water control much easier.
Singh's experimentation is helping researchers to learn how conservation agriculture and diversification might benefit smaller farms with fewer resources.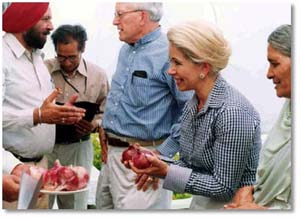 Ambassador Mulford and others at the field visit discussed some of the challenges and concerns shared by farmers and researchers, such as the need for appropriate field equipment for conservation agriculture, the effects on local labor markets, the role of equipment manufacturers, and the need to cope with large amounts of crop residue without plowing and burning. Despite the challenges, the projected benefits of conservation agriculture are promising. In 2002, researchers at Australia's Centre for International Economics calculated that the increased use of zero-tillage techniques promoted by the Rice-Wheat Consortium offered a gain of 1.8 million Australian dollars per year to the Indian economy.
The Rice-Wheat Consortium for the Indo-Gangetic Plains was founded in 1994 by the Consultative Group on International Agricultural Research (CGIAR). Its goal is to improve the productivity of rice- and wheat-based farming while protecting natural resources. The Consortium receives support from the governments of Bangladesh, Nepal, India, Pakistan, Australia, the Netherlands, New Zealand, UK, and USA, as well as from the Asian Development Bank, International Fund for Agricultural Development, and World Bank. Partners include five CGIAR international agricultural research centers, numerous advanced research institutes, equipment manufacturers, NGOs, and farmer groups. CIMMYT is currently the convening CGIAR Center for the Consortium's work.
Ambassador Mulford was accompanied in the field by his wife and by Embassy staff, including Drs. Larry Paulson and Chad Russell; several farmers from Jalbera Village; Dr. Amjer Singh (Director), Er. B.S. Sidhu (Jt Director), Tarsem Singh (Chief Agriculture Officer), all of the Department of Agriculture, and S.K. Ahluwalia (Deputy Commissioner), Punjab Government; and Dr. Raj K. Gupta and other staff working with Rice-Wheat Consortium. The Ambassador and his delegation also met with the Vice Chancellor of Punjab Agricultural University and with the Governor and Chief Minister of Punjab.