CIMMYT E-News, vol 3 no. 8, August 2006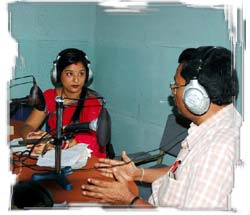 A radio program in Nepal brings information to farmers in a language they understand.
It's Monday, 6:30 pm on Radio Birgunj, the voice of the plains in Southeastern Nepal. Fans for kilometers in all directions huddle by their radios to listen—not to a soap opera or pop music, but to a show about bed planting, horticulture, and zero-tillage. The weekly radio show on farming, targeted specifically to rural inhabitants, is one component of a project funded by CABI to introduce and promote resource-conserving technologies to the region's rice and wheat farmers.
Radio is often the best way to reach rural families in developing countries, and farm shows broadcast from small community stations are not unusual. But Radio Birgunj broadcasts to a population of five million Nepalese, nearly all from farm families, and the station's only "competition" is the region's government radio network.
Ganesh Sah, head of the Nepal Agricultural Research Council (NARC) Agricultural Implement Research Center in Birgunj and long-time CIMMYT partner, is responsible for 70 programs since the show's launch in January, 2005. "It's been difficult coming up with a different topic each week, but we've managed with just a couple repeats," he says. The program uses a question-and-answer format, with the station's Anita Kumwar usually putting questions to an expert guest on behalf of farmers. The show uses the region's indigenous language and music, attracting listeners and ensuring that messages are clearly understood.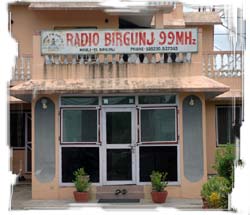 "The program has been very effective," says Paras Thakur, a farmer in the nearby village of Tripeni. He leads a community group that is experimenting with zero-tillage, a practice whereby crops are seeded directly into field residues without plowing. "I especially liked the show about vegetables." Eight out of ten farmers in the group have radios and listen to the broadcasts. In areas where radios are not so common, many people gather around a single radio for the show.
The program's popularity has led the government of Nepal launch another radio farm show in the region. Is Sah worried about the competition? "Of course not: the more messages, the better," he says. "Besides, the government program is in Nepalese, which is not the first language of Birgunj farm families." The last show funded by the CABI project has been aired. But the project team has saved a small amount of money, so Sah hopes he and researchers from his center can hit the airwaves again soon with information to improve the livelihoods of thousands of farmers they could never meet in person.
Zero-tillage for growing wheat after rice saves water, diesel, and other inputs, and allows earlier sowing of wheat, which raises yields. The practice has been adopted by farmers on more than 2 million hectares in South Asia over the past six years. This is largely a result of work to test and promote zero-tillage and other resource-conserving practices by the Rice-Wheat Consortium for the Indo-Gangetic Plains, which includes the national agricultural research systems of Bangladesh, India, Nepal and Pakistan; several centers of the CGIAR with leadership from CIMMYT; and various advanced research institutes.
For more information contact Raj Gupta (r.gupta@cgiar.org)