A training workshop for maize technicians was held from 17–21 May 2010 at the Kenya Agricultural Research Institute (KARI) station in Embu, Kenya. Organized by the Drought Tolerant Maize for Africa (DTMA) project in collaboration with KARI, this is the final of the 13 DTMA countries to benefit from this training.
The workshop was officially opened by Wilfred Mwangi, associate director of the Global Maize Program (GMP), who emphasized the importance of taking technology to the farmers. In his remarks, Mwangi focused on the project's aim to change farmers' lives by improving the yield of drought tolerant maize varieties in drought-stressed areas. "Over the past four years, CIMMYT and its partners have developed tools to help build individual capacity by taking technology to the farmers," he said. Mwangi introduced Prasanna Boddupali, GMP director, to CIMMYT collaborators in Kenya. Stephen Njoka, KARI-Embu center director, attended the opening of the course, and later conducted the closing ceremony.
A total of 35 participants attended the workshop, drawn from five KARI stations (Embu, Kakamega, Katumani, Muguga, and Mtwapa), seed companies, NGOs, and the CIMMYT field station in Kiboko. The training focused on upgrading technical staff's skill and knowledge of field trial management, variety testing, registration, and release. Topics covered included breeding for abiotic and biotic stress, management of trials and nurseries, hybrid development, on-farm variety testing, seed production, variety descriptors, variety release and registration, and use of the CIMMYT Fieldbook software for pedigree and data management. Course presentations were in the form of lectures, demonstrations, and practical sessions.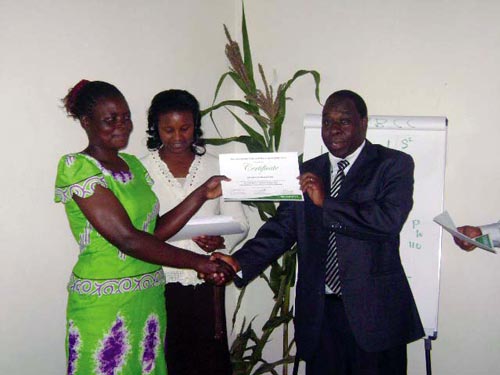 Course participants displayed great enthusiasm and readiness throughout the training. Christine Khalamua (pictured) from KARI-Kakamega expressed her gratitude at having been selected to take part in the training, and was sure that the knowledge acquired during the course will greatly benefit her work. "I have especially learnt a lot about randomization of trials," she said. The teaching was well supported with images that gave a clear description of the science, said Fred Manyara, a participant from KARI-Embu. "The course covered all activities that maize technicians are involved in. It was very useful and has greatly helped us in understanding the work that we do."
Resource persons for the training were CIMMYT maize breeders Dan Makumbi, Peter Setimela, Stephen Mugo, and Yoseph Beyene; CIMMYT research assistants Silvano Assanga, Haron Karaya, Andrew Chavangi, and Joseph Kasango; KARI maize breeder James Gethi; and Evans Sikinyi of Seed Traders Association of Kenya (STAK).