The Nutritious Maize for Ethiopia (NuME) project recently organized a three-day training workshop on quality protein maize (QPM) seed production and quality control, as part of the project's activities to enhance QPM seed production. There were 26 participants, including 2 women, from seed companies, farmer cooperative unions, the Ministry of Agriculture, seed laboratories, research institutes and universities. The workshop was facilitated by CIMMYT experts working in eastern Africa.
Opening the event, Dr. Dagnachew Beyene, advisor to the State Minister of Agriculture, said the workshop was very timely. "The expansion of the Ethiopian seed system is constrained by a shortage of skilled professionals," he said.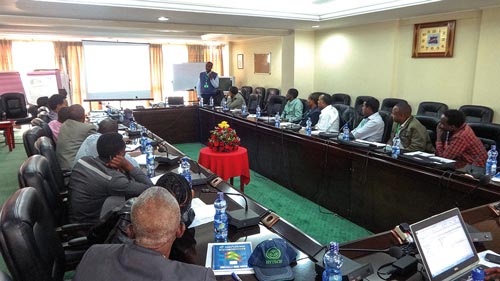 Developed over two decades of meticulous breeding from the late 1970s to the early 1990s, QPM contains enhanced levels of amino acids used for protein synthesis in humans and farm animals such as pigs and poultry. Nutritional studies have shown that it can improve the nutrition of people whose diets are highly- dependent on maize, especially young children. Major topics covered included maize variety development, maize seed research and field management for QPM seed production, maintenance of QPM inbred parent lines and open-pollinated varieties, as well post-harvest handling techniques for QPM.
The training also dealt at length with creating communication links between seed companies, customers and farmers and planning and developing seed production, marketing and financial strategies to promote of QPM seeds.
Addressing the participants at the conclusion of the training, the Crops Research Director of the Ethiopian Institute of Agricultural Research (EIAR), Dr. Asnake Fikre, stated that efforts need to be made to sustain QPM production in Ethiopia, because maize is the most produced cereal and a critical crop for food security in the country.
Asnake also noted that "in the transition to food security in the country, nutritional security is a critical concern and the crop sector in Ethiopia should work hard to sustain the QPM value chain by advocating its nutritional and agronomic benefits and creating demand for the production and use of QPM." The added that NuME's important work on QPM needs to be effectively backed up by multi-sectorial engagement and cooperation.
In their feedback, participants said the workshop had been timely, well-organized and valuable. They suggested that future such events include practical sessions and interaction with farmers. Typical remarks included statements that "strengthening of QPM and advocacy issues need to be consistent in promoting QPM until it reaches cutting-edge stage."
NuME is implemented by CIMMYT in Ethiopia and funded by the Department of Foreign Affairs, Trade and Development of Canada (DFATD). It is designed to help improve the food and nutritional security of Ethiopia's rural population, especially women and children, through the adoption of QPM varieties and crop management practices that increase farm productivity.