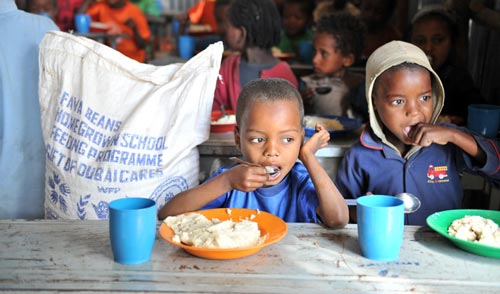 The World Food Programme (WFP) provides support to the Ethiopian government's Growth and Transformation Plan, a development agenda which addresses food security. WFP School Meals and Managing Environmental Resources to Enable Transition (MERET) programs support sustainable land and water management to improve productivity in food-insecure communities.
In this picture, taken by WFP staffer Kiyori Ueno, children are eating porridge made of maize and haricot beans produced by local farmers at the Udassa Repi Elementary School in Butajira, a project supported by Dubai Cares.
Through the School Meals program, WFP provides a daily hot meal to almost 700,000 school children to promote increased attendance and enrollment, reducing drop outs in food insecure areas. The program also supports formal education by developing schools into community resource centers that promote good nutrition and environmental awareness.
For more information, follow WFP on Twitter @WFP