Since 2015, the Cereal Systems Initiative for South Asia (CSISA) has been working with Krishi Vigyan Kendras (KVKs) – agricultural extension centers created by the Indian Council for Agricultural Research – to generate evidence on best management practices for improving cropping system productivity in the Eastern Indo-Gangetic Plains.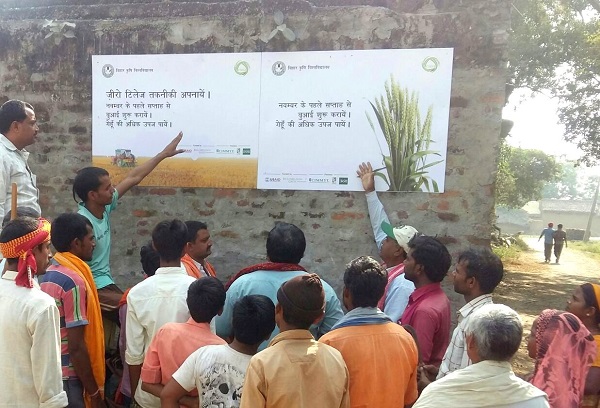 Technologies and management practices essential to this research include early wheat sowing, zero tillage and the timely transplanting of rice. In response to clear evidence generated through the CSISA–KVK partnership, Bihar Agriculture University (BAU) announced in October 2017 that all KVKs in Bihar would promote early wheat sowing starting November 1. KVKs promoted this intervention by placing notices, which were designed by CSISA, on roadsides.
BAU also directed the KVKs to act as commercial paddy nurseries, supplying healthy rice seedlings in a timely manner to farmers.
Pairing these rice and wheat interventions is designed to optimize system productivity through the on-time rice transplanting of rice during Kharif (monsoon growing season), allowing for the timely seeding of zero-till wheat in Rabi (winter growing season).
Under the CSISA–KVK partnership, KVKs have supported early wheat sowing by introducing local farmers to the practice of sowing zero tillage wheat immediately after rice harvesting.
Evidence has shown that early sowing of wheat increases yields across Bihar and Eastern Uttar Pradesh. KVK scientists have begun to see the importance of breaking the tradition of sowing short duration varieties of wheat late in the season, which exposes the crops to higher temperatures and reduces yields.
Across the annual cropping cycle, monsoon variability threatens the rice phase and terminal heat threatens the wheat phase, with significant potential cumulative effects on system productivity. The combined interventions of early wheat sowing, zero tillage wheat and rice nurseries for timely planting help mitigate the effects of both variable monsoon and high temperatures during the grain-filling stage.
In 2016–17, data collected across seven KVKs (333 sites) indicated that yields declined systematically when wheat was planted after November 10. When planting was done on November 20 — yields declined by 4%, November 30 – 15%, December 10 – 30%, reaching a low when planting was done on December 20 of a 40% reduction in yield.
Rice yields are also reduced significantly if transplanting is delayed beyond July 20. The timing of rice cultivation, therefore, is important in facilitating early sowing in wheat without any yield penalty to rice.
KVKs are working to generate awareness of these important cropping system interventions, as well as others, deep in each district in which they work. CSISA supports their efforts and strives to mainstream sustainable intensification technologies and management practices within a variety of public- and private sector extension systems as capacity building are core to CSISA Phase III's vision of success.
The Cereal Systems Initiative for South Asia project is led by the International Maize and Wheat Improvement Center with partners the International Rice Research Institute and the International Food Policy Research Institute and funded by the U.S. Agency for International Development and the Bill & Melinda Gates Foundation.