The Cereal Systems Initiative for South Asia (CSISA) has collaborated with Digital Green (DG), the Department of Agriculture (DOA), Government of Odisha, Krishi Vigyan Kendras (KVKs) and Orissa University of Agriculture & Technology (OUAT) for a pilot project integrating information and communication technology (ICT)-based video-led dissemination models in 20 villages of Puri district in Odisha, India.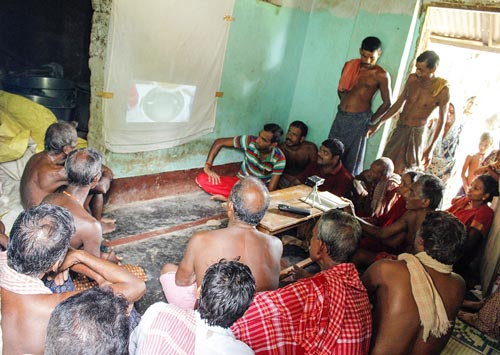 How the pilot works: DG trains and builds the skills of state agents to shoot and create videos with farmers on improved farming practices and then holds screenings for small groups of farmers using small-sized, low-cost, battery-run pico projectors. CSISA provides its technical inputs in video topic selection, content planning and story boarding. During the video screening, state agents keep track of the questions asked and have follow-up meetings with the farmers to check on the adoption of farming practices.
This CSISA–DG initiative has resulted in the production of videos on 10 technical themes reflecting the needs of local farming communities. Topics included the demonstration of new paddy, post-harvest and livestock management technologies and relevant successes by local farmers. So far, six videos on CSISA- promoted technologies have been produced. Ninety-one group screenings were held, with nearly 500 farmers in Puri district attending at least one of the video screenings. "Each video requires good planning, a good script and technical understanding of the subject," said Sudhir Yadav, IRRI Irrigated Systems Agronomist and the CSISA Odisha Hub Manager.
"We aim at both increasing participation of the community and creating a two-way flow between research and extension," said Rikin Gandhi, CEO of DG, during a presentation at the Borlaug 100 event organized by CIMMYT.
These videos inspire farmers to learn about and adopt new technologies and management practices. A video on the benefits of chopped straw as fodder in dairy management has helped farmers to enhance milk production, commented Suresh Parida, a farmer from one of the pilot villages. Farmers have also found it easier to identify pests and diseases in their crop after seeing a video of pest and disease management in paddies.
"As the actors in the video are local farmers from the area, it generates trust among the viewers to adopt a demonstrated practice," said Avinash Upadhaya, Regional Manager of DG for Odisha, at a recent participatory stakeholder's workshop in Puri. Farmers, mediators from KVK and project coordinators from DOA, CSISA and DG met to discuss the changes that the ICT model has brought and challenges in integrating it with traditional training methods. Ashok Lakra, a village agricultural worker of a pilot village highlighted the advantages of DG's approach, stating "At a demonstration, we might miss some important information, but these videos deliver the entire package and cover all the points."
"The best language that the farmer understands is the language of other farmers. This works as a good communication model to help in creating awareness and dissemination of improved technologies," said Yadav.