April, 2004
South Asian Partners Host Trustees for Extended Field Visits
Much of CIMMYT's research focuses on improving the livelihoods and food security of poor households in South Asia, which is home to more of the world's poor–43 percent–than any other region. To observe the impact of CIMMYT's efforts there and to assess opportunities to help farmers, CIMMYT's Board of Trustees and senior management visited India and Nepal in March. Officials of both countries hosted the visiting delegation.
India and Nepal are two key partners for CIMMYT. India's relationship with CIMMYT began before the Green Revolution, and the world has benefited from the research products of this collaboration. CIMMYT also has maintained a long partnership with Nepal, where the National Agricultural Research Center (NARC) has hosted CIMMYT's South Asia Regional Office for 18 years.
Field Visits in India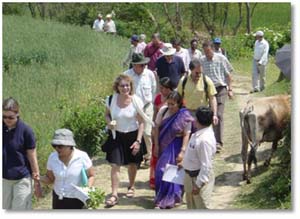 On the first day of the field visits, about 200 farmers from nearby villages greeted the delegation and expressed appreciation for new practices that were helping them to diversity agricultural production and conserve resources such as water and soil. The delegation was welcomed in Kapriwas, Gurgaon by senior officials of the Indian Council of Agricultural Research (ICAR), including Director General Mangala Rai, Deputy Director of Crops and Horticulture G. Kalloo, and M.K. Miglani, Vice Chancellor of Haryana Agricultural University. They explained how new tillage and planting practices helped Indian farmers by saving labor, fuel, and irrigation, while maintaining or increasing yields.
Many farmers were extremely enthusiastic about the visit. One farmer was sprinkle irrigating wheat that was close to maturity, which is something that is not typically done. When one of the visitors asked why he was doing this, the farmer replied that he was overjoyed by their visit and wanted to show off his sprinkle irrigation system. (The technical explanation was that he wanted to lower the heat stress and improve grain filling.)
The visitors saw research to identify salt-tolerant wheat and other crops and to study the long-term effects of saline water use at Bawal Research Station. They also saw an experiment showing how paired-row wheat planting on beds produced high yields, large spikes, and large grains, which help wheat fetch a higher market price. Although all the farmers who joined the delegation agreed that wheat planted on beds in paired rows gives higher yields with less labor and fewer inputs, they said there is a shortage of bed planters for Indian farmers. CIMMYT, ICAR, and the private sector are working to improve the situation.
Another experiment they observed evaluated the potential for growing maize in Haryana, where limited production and high demand compel people to buy maize in Delhi or Rajasthan.
On the second day the delegation visited Durgapura Research Station of Rajasthan Agricultural University. They learned about a wide spectrum of research, including breeding for resistance to rust and to cereal cyst nematode and for tolerance to saline conditions. They heard about issues related to the use of brackish and saline water in crop production in arid regions. Some participants expressed concern about the long-term health effects of this practice, especially in the production of green vegetables.
On the third day the delegation was received by farmers of Kallogarhi-Matiala Village, as well as PP Singh (Vice Chancellor, Sardar Vallabh Bhai Patel University of Agriculture and Technology, Meerut) and Larry Paulson (USAID-India). Board members were very interested in locally developed, low-cost equipment for promoting conservation agriculture. They saw the comparative performance of wheat planted using zero-tillage drills with "inverted T" and double disc openers. Farmers at this site are developing a permanent "double no-till" system of conservation agriculture to grow rice and wheat.
During dinner, representatives of Raja Balwant Singh College Trust thanked CIMMYT for more than 50 years of partnership in Indian agricultural development, dating back to before the Green Revolution. They suggested that CIMMYT and RBS, the largest and one of the oldest agricultural colleges in India, could benefit from a joint visiting scientist program.
Field Visits in Nepal
In 2003, Nepal's national average wheat yield surpassed 2 t/ha for the first time, an achievement that gives some idea of the constraints that farmers there have overcome. The National Wheat Research Program Coordinator, Mr. M.R. Bhatta, described the impact of disease and yield nurseries that CIMMYT and NARC distribute throughout South Asia, and observed that more than 20 wheat varieties have been released in Nepal in the past 15 years.
At Khumaltar Research Station, NARC researchers highlighted studies in areas such as pathology, breeding, agronomy, soil sciences, mechanization, and biotechnology.
The visitors also heard researchers from the Hill Maize Research Project describe how communities have become self-sufficient in maize, their staple food, for the first time. Nearly 80% of Nepal's maize is grown in the mid-hills, where more than 10 million people depend on the crop for food, income, and animal feed. Shortages are chronic. The Hill Maize Research Project provides the farmers with source seed, plus training in seed production techniques, storage, and marketing. It also ensures that there is sufficient seed of new maize varieties for farmers to replace old improved or local varieties, which yield very little.
Through their efforts, communities have produced more than 150 tons of maize seed. Community-based seed production accelerates seed replacement, disseminates new technologies, improves household food security, and raises incomes. This work, supported by the Swiss Agency for Development and Cooperation (SDC), is having an enormous impact in isolated hill sites.
A visit to farmers' fields in Thecho Village in the Kathmandu Valley showed how farmers' access to better wheat varieties and growing practices was increasing through participatory research. The farmers partner with NARC, CIMMYT, the University of Bangore, the Agricultural Development Organization (ADO), and others in a project funded by the UK Department for International Development. Farmers enthusiastically shared their experiences with participatory variety selection and seed production. Some groups are earning enough additional income from growing wheat to purchase new equipment or make other investments.
NARC and ADO have extended participatory variety selection to rice, legumes, vegetables, and other crops throughout Nepal after seeing the success with wheat. (In India, similar exciting work is being done in collaboration with Banaras Hindu University.)
Thanks to Our Hosts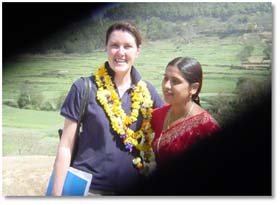 CIMMYT's Board and staff are grateful to P.P. Manandhar, Nepal's Secretary of Agriculture, and officials at the Ministry of Agriculture and Cooperatives for their constant support for CIMMYT's South Asia Regional Office, and to NARC Executive Director R.P. Sapkota and his colleagues for support and field visits. They are also most grateful to ICAR Director General Mangla Rai, Deputy Director of Crops and Horticulture G. Kalloo, and the many representatives of experiment stations, colleges, and universities in India who made the visit a success. The opportunity to meet and visit the field with representatives of DFID, FAO, the Japan International Cooperation Agency, SDC, USAID, and the World Bank, among others, was also greatly appreciated.
We also thank the farmers who so kindly shared their experiences and hospitality with us.